NSWPWC AQUA-X RD 2 REPORT AND RESULTS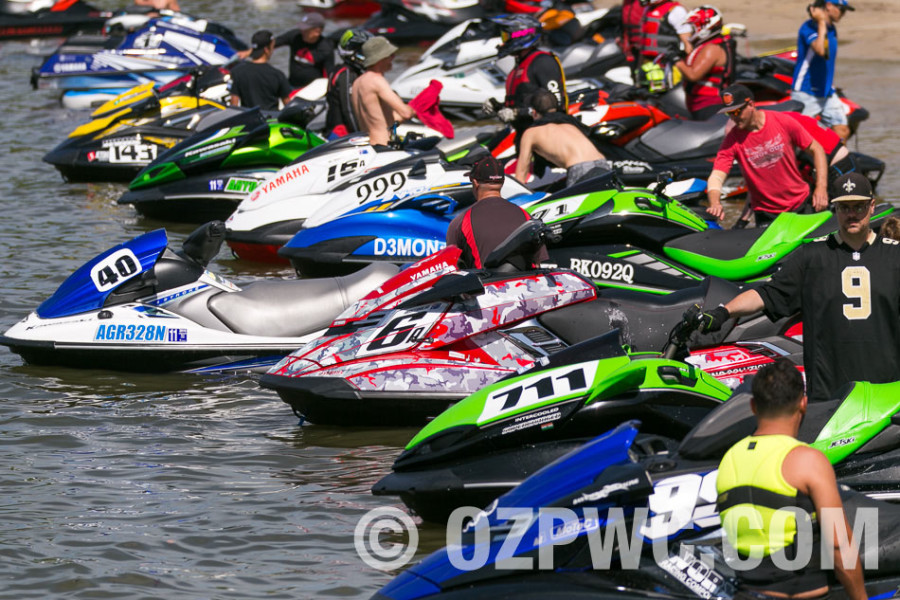 What a cracker of a day down at the NSWPWC's club base, the St George Sailing Club for the 2nd round of the NSWPWC AquaX club series.  Warmth for the soul after a week of crazy storms, lightening, gale force winds and torrential downpours in old Sydneytown but just what was needed to rouse the jetski warriors from their slumber and hit the road to the Sydney club's San Souci race site on Botany Bay. A huge turnout including many dedicated Queenslanders claimed every spot in the carpark and had the regulars from the club asking if this was a Nationals meeting. Good also to see many new 2016 watercraft stickered up and ready for their first hit outs including the new Seadoo RXP-X 300 and Yamaha's new FZR and FX SVHO. Add to that a handful of Sparks ready for the new Sydney Seadoo Spark class and a stack of standups and it was obvious we were in for a damn solid race meet.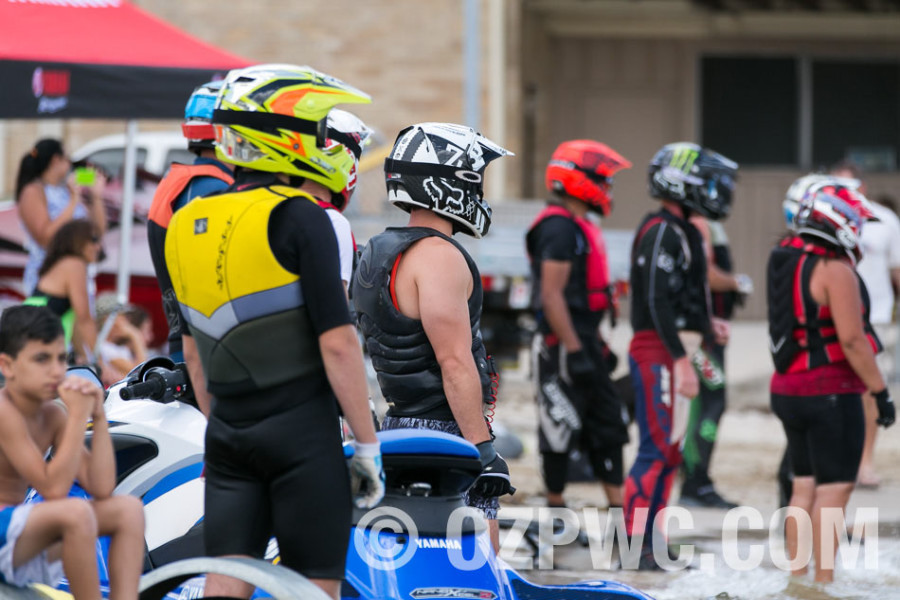 First up as usual was the first Enduro heat and a huge field covering stock, showroom stock and open ski's blasted off for some punishment around the big Botany Bay circuit. Straight up it was business as usual and a race win for the Aussie Stock Runabout Champion Mitch Wayt on the new red/white Yamaha FZR with the Kawasaki 310's of Brett Douglass and Chinni Rao in hot pursuit and a stellar effort from Dan's Jetpower owner Danny Moujally back from injury and campaigning a new Yamaha FX SVHO. Regular observers would also have noticed the Brisbane Kawasaki teamsters Cameron Martin and Christian D'Agostin have jumped ship to form PTS Racing and line up on new 2016 Yamaha Waverunners, FX and FZR respectively. Unfortunately Christian was homebound at the last minute with a sick daughter so Cameron Martin used the Sydney round to get to know his way around the big FX which will be campaigned aggressively this season in the Chinese Aquabike series starting in March.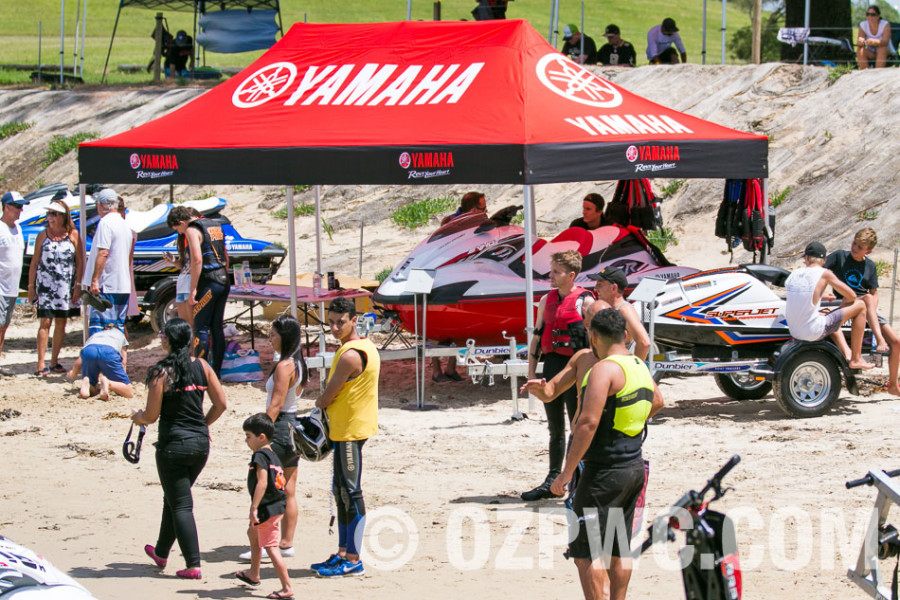 Second heat of Enduro at the end of the day was equally exciting and a little more action packed with Mitch Wayt lucky to escape injury when one of the foot lockers came adrift in his FZR at the first turn spitting him off violently and leaving him bobbing in the water at the mercy of the gods with the rest of the field at full noise around him. He rejoined the race only to suffer the same fate later in the race and called it a day. So it was a win in the Open class for Brett Douglass on his Kawi 310 with Canberra's Chinni Rao also on a 310 in second and Mitch Wayt taking third. Enduro Showroom Stock was a top 3 Seadoo RXP-260 clean sweep with a win for Nick Pilgrim, second for Nathan Adlam and Ash Deadman in third. Chinni Rao cleaned up in Enduro Stock as well on his 310 to make his best results to date, Nick Burns on the new RXP-X 300 in second and Mitch Wayt in third. A valiant effort as always by Eman Soliman on her Yamaha FZS did not go unnoticed and she continues to inspire everyone she meets. Great job Eman !
Closed course competition started with the ski class comprising 4 Juniors, 10 'lites' skis (5 Superjets against 5 SXR800's) and 1 open ski in the hands of Australian #2 Michael Stevens. Michael retired the fast boat after the first heat and took on watermarshalling duties for the remainder of the day – this bloke gives back and is always around when help is needed.
Fast local youngster Jett Cavanagh is getting quicker every time out and was sticking it amongst the lites adults skis on his Bayside Marine Superjet taking an easy first in Junior ski and second overall in Ski Lites, very impressive. 16 year old Kansas kid AJ Luinstra out for 4 months in OZ and riding Michael Richards #218 SXR800 landed a well deserved second in Juniors and 5th overall in Lites. Jordan Farrow came in third and first time out riding the yellow vest Dan's Jetpower offspring Jason Moujally rode strong to take 4th, banking some well earned confidence for the next meeting.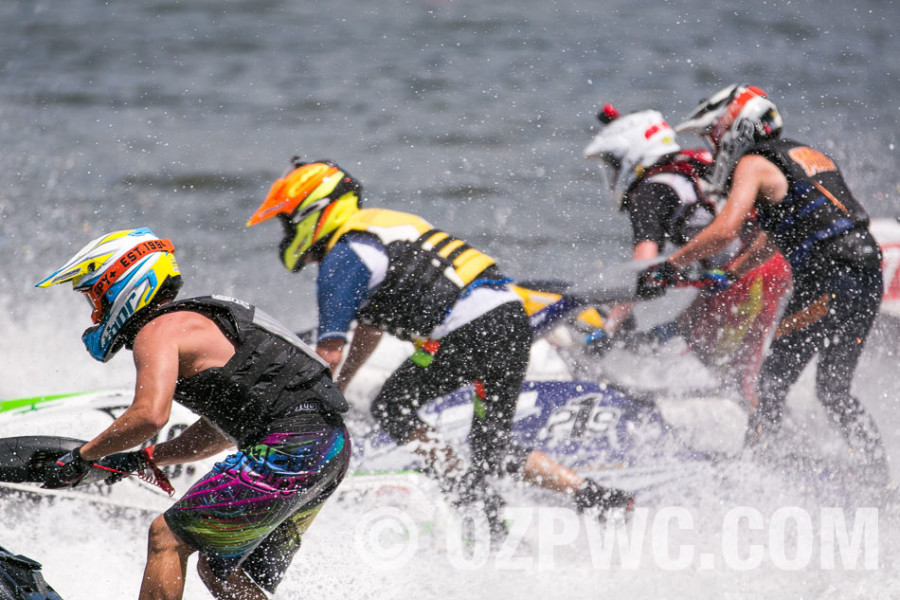 Lites was won by talented all rounder Tommy Aitken on his SXR800 with Jett Cavanagh (Superjet) in second and multi Aussie champ and Sydney Seadoo owner James Masterton (Superjet) having a run back on the standups to come in 3rd. Big effort from the old veteran Michael McMillan on his new 2008 Superjet bagging 4th ahead of a slew of chargers including a rapidly improving Mark Glew (SXR800).
Nick Burns cleaned up in a big 10 strong ski showdown in Showroom Stock Runabout on his new RXP-X 300 ahead of Nick Pilgrim(RXP-X 260) with Sam Barratt in third on another new RXP-X 300. Good to see some other craft make the line including a Honda 12X and Yamaha GP1200 and Yamaha XVR.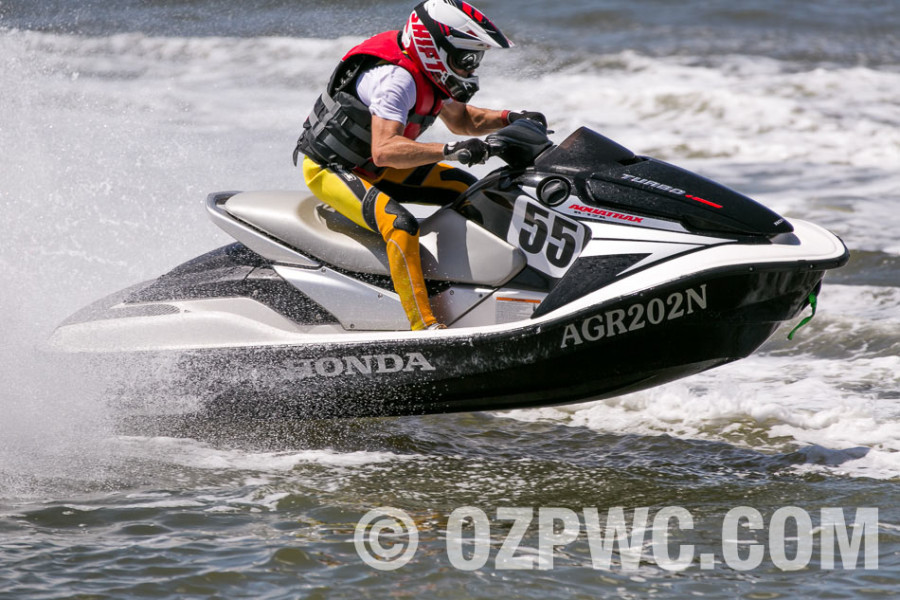 A new class introduced at Rd 2 was the Sydney Seadoo sponsored Spark Class with 4 sparks on the line and plenty of interest in more apparently for the next round on Feb 28. This is a top entry level class and old timer Darryl Apps scooped the pool with a strong showing to take the $500 first prize voucher donated by Sydney Seadoo. Jarrod Baird came in 2nd claiming a $250 voucher and Daniel Bussa grabbed 3rd and a $50 voucher. Great to see course setter and perenial NSWPWC stallwart Dean Jeffries out on the course competing again although well outpaced on his bone stocker Spark.
Stock Runabout was won by Queensland's hard charger and current Aussie stock runabout champ Mitch Wayt on his new 2016 Yamaha FZR ahead of a slew of Seadoo RXP-X's with Nick Burns in second and Mark Quitadamo in third.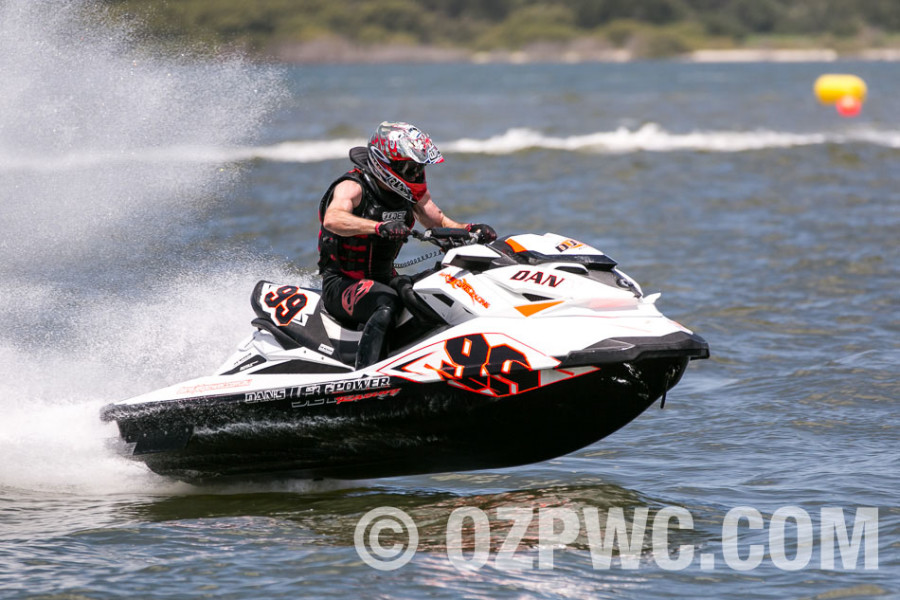 Open Runabout was a battle between current Aussie #2 Paul Leven and Queenslanders' Brett Douglass , Greg Hack and Brendan Boyd, the latter having rare mechanical issues that took him out of the action. Greg Hack had moments of brilliance but lacked the pace of the Leven and Douglass and it took a final heat 3 win by Leven to take the overall after the two split wins in the previous two races. Great to see another Open ski on the pace and with plenty of speed with Brett Douglass riding well. End result Leven first, Douglass second and Greg Hack in third.
All in all a top day down on the bay and conditions ranging from flat early in the day to choppy later on really testing all the competitors. Thanks as always to the committed crew helping out the NSWPWC including Dean Jeffries, Paul Leven, Nathan Wethered, Stuart Fell, AJ Luinstra, Tom Aitken, Simon Murray, Justin Belczowski, Michael Stevens and Darryl Marshall and of course Taylor Aitken for handling riders meeting, scoring and presentation.
Click here to see the full gallery of pics
Give OZPWC a follow on facebook and instagram (ozpwc)
Next AquaX is round 3 on the 28 Feb 2016 back again at the St George Sailing Club.
Stay up to date at with the latest NSWPWC news at www.nswpwc.org.au and NSWPWC on facebook.
Junior Lites Ski
| | | |
| --- | --- | --- |
| 1st | Jett Cavanagh | Superjet |
| 2nd | AJ Luinstra | Kawasaki SXR 800 |
| 3rd | Jordan Farrow | Superjet |
| 4th | Jason Moujally | Superjet |
Lites Ski
| | | |
| --- | --- | --- |
| 1st | Tom Aiken | Kawasaki SXR800 |
| 2nd | Jett Cavanagh | Superjet |
| 3rd | James Masterton | Superjet |
| 4th | Michael McMillan | Superjet |
| 5th | AJ Luinstra | Kawasaki SXR800 |
| 6th | Mark Glew | Kawasaki SXR800 |
| 7th | Jordan Farrow | Superjet |
| 8th | Craig Faccioni | Kawasaki SXR 800 |
| 9th | Daniel Offord | Kawasaki SXR 800 |
| 10th | Jason Moujally | Superjet |
Sydney Seadoo Spark Class
1st
Darryl Apps
Sea-Doo Spark
($500 voucher)
2nd
Jarrod Baird
Sea-Doo Spark
($250 voucher)
3rd
Daniel Bussa
Sea-Doo Spark
($50 voucher)
4th
Dean Jefferies
Sea-Doo Spark
Showroom Stock Runabout
| | | |
| --- | --- | --- |
| 1st | Nick Burns | Sea-Doo RXP-X 300 |
| 2nd | Nick Pilgrim | Sea-Doo RXP-X |
| 3rd | Sam Barratt | Sea-Doo RXP-X 300 |
| 4th | Corey Styles | Sea-Doo RXP-X 260 |
| 5th | Mark Dallow | Sea-Doo RXP-X 300 |
| 6th | Mick Butler | Yamaha FZS |
| 7th | Nathan Adlam | Yamaha VXR |
| 8th | Ash Deadman | Kawasaki Ultra 300 |
| 9th | Stuart Fell | Honda R12X |
| 10th | Simon Murray | Yamaha GP1200 |
Stock Runabout
| | | |
| --- | --- | --- |
| 1st | Mitch Wayt | Yamaha FZR |
| 2nd | Nick Burns | Sea-Doo RXP-X 300 |
| 3rd | Mark Quitadamo | Sea-Doo RXP-X 260 |
| 4th | Corey Styles | Sea-Doo RXP-X 260 |
| 5th | Sam Barratt | Sea-Doo RXP-X 300 |
Open Runabout
| | | |
| --- | --- | --- |
| 1st | Paul Leven | Sea-Doo RXP-X |
| 2nd | Brett Douglas | Sea-Doo RXP-X |
| 3rd | Greg Hack | Sea-Doo RXP-X |
| 4th | Brendan Boyd | Sea-Doo RXP-X |
Enduro Showroom Stock
| | | |
| --- | --- | --- |
| 1st | Nick Pilgrim | Sea-Doo RXP-X 260 |
| 2nd | Nathan Adlam | Yamaha VXR |
| 3rd | Ash Deadman | Sea-Doo RXP-X 260 |
| 4th | Nikolas Pazanin | Kawasaki STX-15F |
| 5th | Sam Barratt | Sea-Doo RXP-X 300 |
| 6th | Stuart Fell | Honda |
| 7th | Eman Soliman | Yamaha FZS |
Enduro Stock
| | | |
| --- | --- | --- |
| 1st | Chinni Rao | Kawasaki 310 |
| 2nd | Nick Burns | Sea-Doo RXP-X 300 |
| 3rd | Mitch Wayt | Yamaha FXR |
| 4th | Mark Dallow | Sea-Doo RXP-X 300 |
| 5th | Sam Barratt | Sea-Doo RXP-X 300 |
| 6th | Eman Soliman | Yamaha FZS |
Enduro Open Runabout
| | | |
| --- | --- | --- |
| 1st | Brett Douglas | Kawasaki 310 |
| 2nd | Chinni Rao | Kawasaki 310 |
| 3rd | Mitch Wayt | Yamaha FZR |
| 4th | Danny Moujally | Yamaha FX SVHO |
| 5th | Brendan Boyd | Sea-Doo RXP-X 260/300 |
| 6th | Cameron Martin | Yamaha |
| 7th | Daryl Marshall | ???? |
| 8th | Sam Barratt | Sea-Doo RXP-X 300 |
| 9th | Eman Soliman |  Yamaha FZS |