Lake Mac Battle of the Champions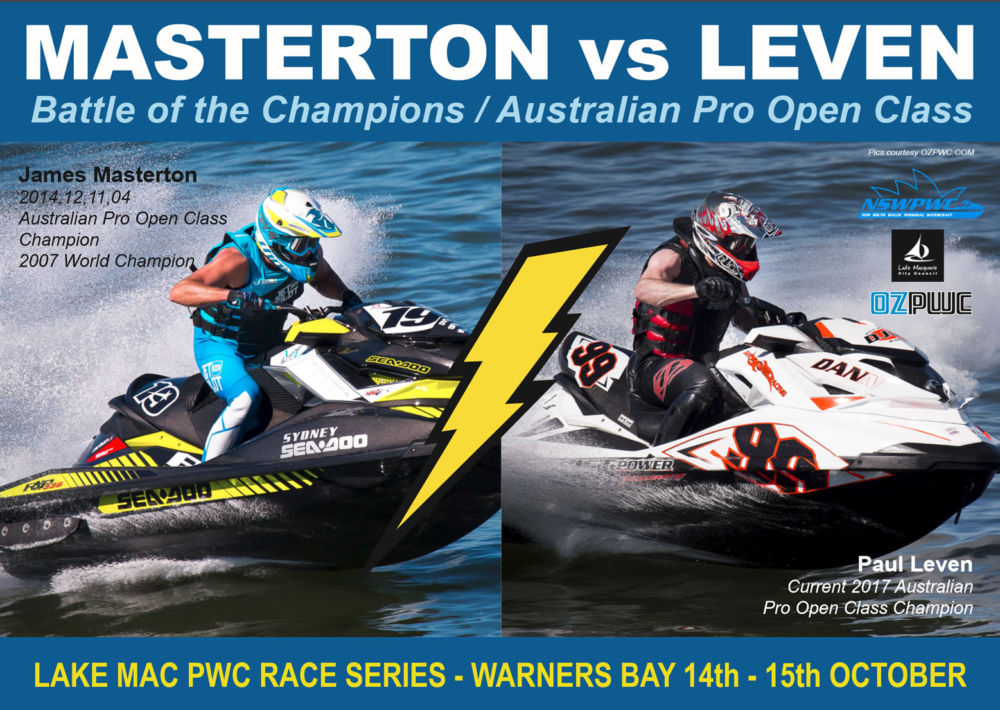 The 2017 Lake Mac PWC Race will hit boiling point on Sunday 15th October when the current Aust #1 Pro GP Runabout rider Paul Leven takes on a star filled field including the Aust #2 James Masterton. Watch the +500hp rocketship accellerate from 0-100km/h in under 2 secounds as they battle for the for the podium.
Racing will be held on both days of the Big Weekend, with courses running between Eleebana and Warners Bay. Expert riders will show off their skills in demonstration displays near the Warners Bay Foreshore on Friday 13 October.
"Spectators will be able to get up close and personal with riders and craft during the event and experience the adrenalin and excitement of PWC racing," Event Manager, Mark Glew, said.
"The best viewing spots for the event will be from the Eleebana Foreshore, where the pits and start gates will be located, the Red Bluff Shared Pathway and, for Saturday's event, the Warners Bay Foreshore."
The PWC Race Series is one of the feature events of the Lake Mac Big Weekend, along with the fourth round of the Australian Offshore Superboat Championships.
Last year, more than 30,000 people flocked to the Big Weekend, a diverse community festival incorporating activities around key vantage points on the Warners Bay Foreshore and Marmong Point Foreshore Reserve. Other events this year will include markets, food stalls and entertainment, 'come and try' water sports and aerobatic displays from the Matt Hall Racing flying team.