Yamaha low rate finance finishes at the end of August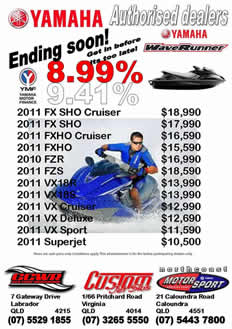 Authorised Yamaha dealers from the south east of QLD are reminding people out there who are interested in purchasing a new Yamaha Waverunner that the popular low rate interest will come to an end at the end of August.
Yamaha's 'experience the 3reedom' program has been very popular with many new Waverunner owners taking advantage of what is on offer from Yamaha dealers. An industry leading 3year factory warranty comes with all new Waverunners along with reduced retail prices which makes buying a new Waverunner a smart choice.
Although the retail prices on a brand new Waverunner will remain the lowest they ever have been from Yamaha and a 3 year warranty will also be here to stay, potential buyers are reminded that the low rate interest will not be available past August.
Jordan from Gold Coast Waverunner says.
"If you are looking at purchasing your new Waverunner shortly and you want to take advantage of the awesome finance package available from Yamaha Motor Finance, then make sure you get in-store and secure your package now before the low rate ends! Coupled with the super competitive prices and factory 3 year warranty, I think everyone should enjoy a new Waverunner".
Gold Coast Waverunners, Custom Jetskis and Northcoast Motorsports have come together to remind people that they are Authorised Yamaha Waverunner dealers, not imitators and they can offer all the advantages of buying a new Waverunner through the official dealer network. Get into your local dealership to secure your package now.