Jet-skier battered by rough sea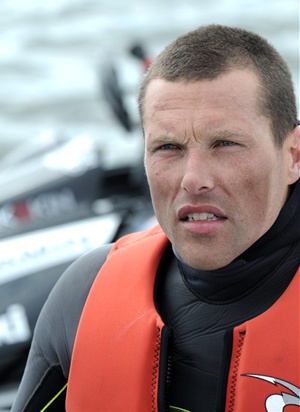 CRASHING through three- metre high waves Christian D'Agostin had no idea how high emotions were running at either end of Bass Strait.
He had left his father at 6am at Wilsons Promontory in Victoria, setting out alone on a jet-ski to raise $10,000 for prostate cancer if he broke the five-hour, 11-minute world record.
The experienced V8 supercar driver's hopes of averaging 90km/h to Low Head were dashed when a powerful gale made the journey anything but smooth sailing.
When Mr D'Agostin failed to reach a checkpoint at an appointed time support crews raised the alarm, fearing he'd been knocked out or worse.
These fears worsened when car dealer Greg Crick, a friend of Mr D'Agostin's father, failed to find him after scouring parts of the strait in his helicopter.
"Something's gone wrong, hopefully he turns out OK," a grim sounding Mr Crick said at one point.
Police from Victoria and Tasmania started a search and rescue operation after Mr Crick had flown 40 nautical miles north over the strait and saw "no sign of him".
Then, just before 1.30pm Mr D'Agostin's Tasmanian greeting party made out a small upright figure riding into York Cove.
The relief was palpable.
"We were thinking that he knocked himself out … we were just hoping for the best and along he came and everything turned out OK," Mr Crick said.
A calm but weary D'Agostin explained how a brutal wind had whipped up the treacherous conditions.
"I was getting hammered, I was going through waves not over waves," he said.
"I thought this is not meant to happen."
The experienced jet-skier and lover of all things motor sport decided to press ahead.
The Queenslander was inspired to make the 260-kilometre one-way trip after his father was diagnosed with prostate cancer.
"But Mother Nature didn't let us do it today," he said.
Mr D'Agostin was planning to jet-ski back to Victoria today.
Article from The Examiner Newspaper