UIM-APB AQUABIKE MOTO 2 RESULTS AND OVERALL GRAND PRIX STANDINGS
MOTO 2 WIN AND GRAND PRIX TITLE FOR YOUSEF AL ABDULRAZZAQ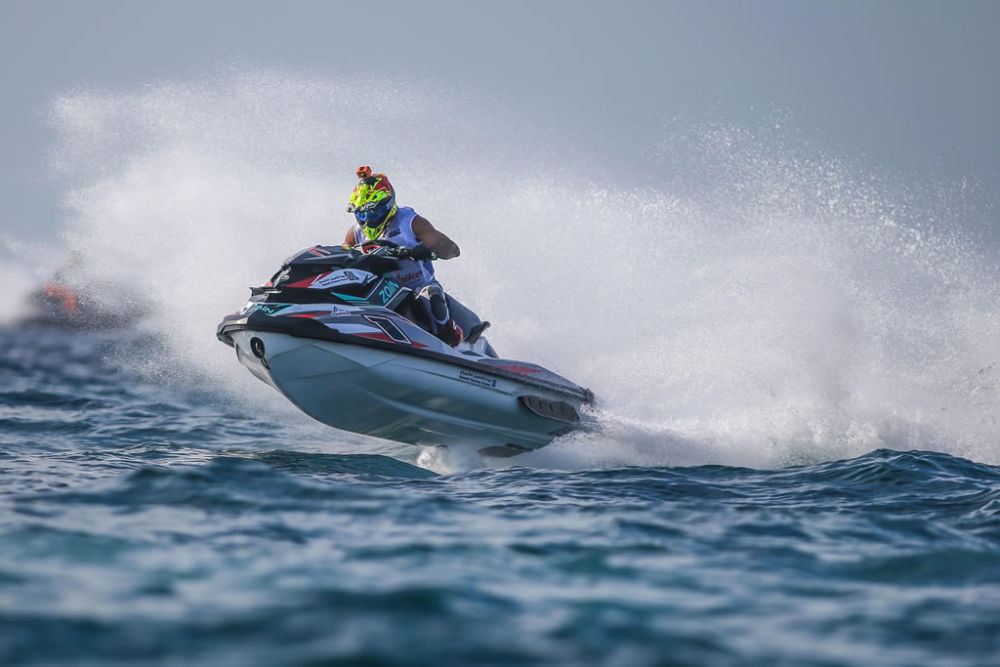 Sunday, 27 May, GALLIPOLI (Italy): World Champion Yousef Al Abdulrazzaq completed a near-perfect start to his title defence in Gallipoli with victory in Moto 2 in Runabout GP1 to win the UIM-ABP Aquabike Grand Prix of Italy.
The four-time champion grabbed the advantage immediately to get ahead of yesterday's winner and pole-sitter Gyorgy Kasza to lead from Christophe Agostinho, Kasza and Jeremy Perez at the end of lap 1.
Spain's Roberto Alexander was also in the mix on the opening lap but a spectacular high-side coming to the start-finish line at the end of lap 1 put paid to his chances, dropping back and ending the race a lap down in tenth.
The running order at the front remained static until lap 5 when Kasza hit a wall of a wave and was passed by Perez, making a double gain and also moving ahead of Agostinho, the hit on Kasza's bike proving costly, his race ending on lap 7, but his Moto 1 win was enough to put him on the third step of the podium.
Out front Abdulrazzaq was in complete control and racing away from Perez, opening out a 30 second gap by lap 10 and running out the winner by 19.00s to take his 11th Grand Prix title and an early nine point lead in the title race. Second place for Perez put him into second overall and on the podium for the first time since Sharjah 2016.
But the man on the move and producing the performance of Moto 2 was Marcus Jorgensen; starting from 23rd he was up to 11th at the end of lap I and started to scythe his way through the pack picking of riders with ease and by lap 8 was into third where he finished.
Lars Akerblom came home in fourth place ahead of a great race by Alexander Kabatov, with Johan Johansson picking up a second top six finish.
James Bushell put the frustrations of yesterday behind him and despite having to switch to his spare machine just before the start, came from the back of the line of 25 to finish in eighth behind Marcus Schick with Andrzej Wisniewski in tenth.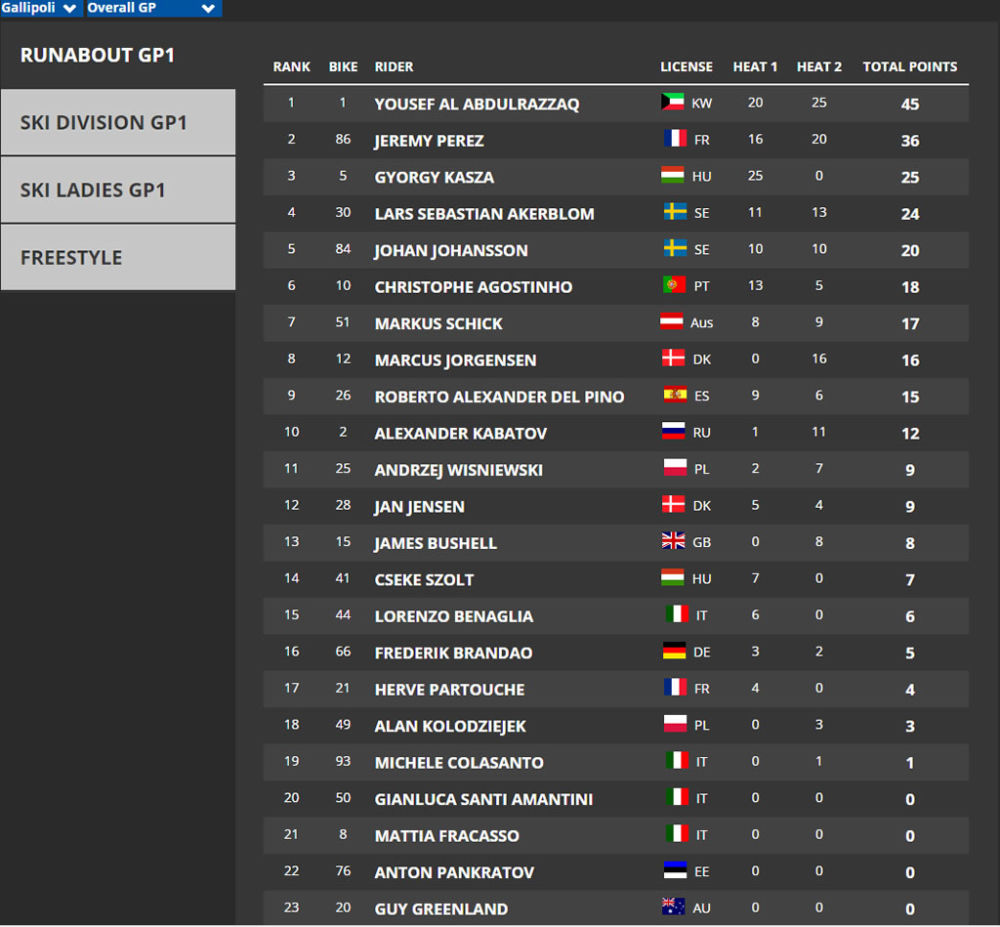 MOTO 2 VICTORY SEALS SKI GP1 GRAND PRIX TITLE FOR RAPHAEL MAURIN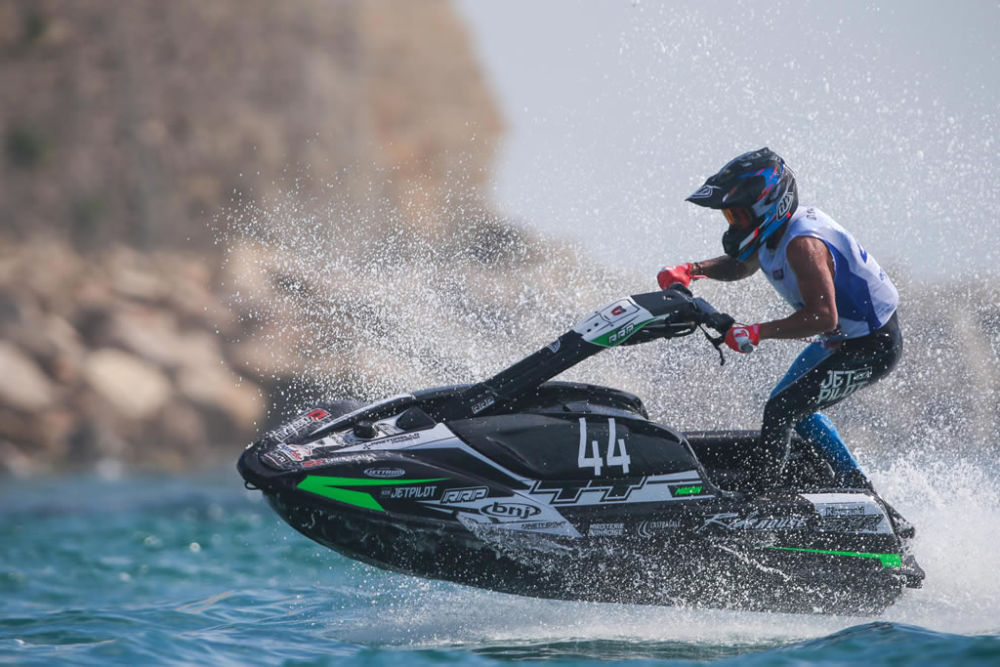 Sunday, 27 May, GALLIPOLI (Italy): Raphael Maurin celebrated his first UIM-ABP Aquabike Grand Prix title with a convincing first win on the UIM-ABP tour in Moto 2 in Gallipoli.
Second place today and overall went to yesterday's winner Kevin Reiterer with the final podium place going to Mickael Poret, taking the chequered flag in third spot.
The opening laps mixed up the starting order with defending champion Quinten Bossche leading to the first turn and at the end of lap 1, but that was as good as it got, stopping and going out of the race a lap later.
Maurin trailed in fourth behind pole -sitter Reiterer and Poret but hit the front on lap 2 and disappeared off into the distance to win by an impressive 39.78s.
Reiterer followed the leader home to give Victory Team a maiden podium, with Poret completing a very good weekend on his Bullett V3 to again be the best of the non-Kawasaki shod riders.
Stian Schjetlein produced his best run of the weekend finishing in fourth, with UIM-ABP tour newcomer Preston Matzdorf finishing in fifth, Ulrik Berntsen came home in sixth to seal fifth overall behind his fellow Norwegian Schjetlein, a second seventh place finish giving Markus Lutsokert sixth overall.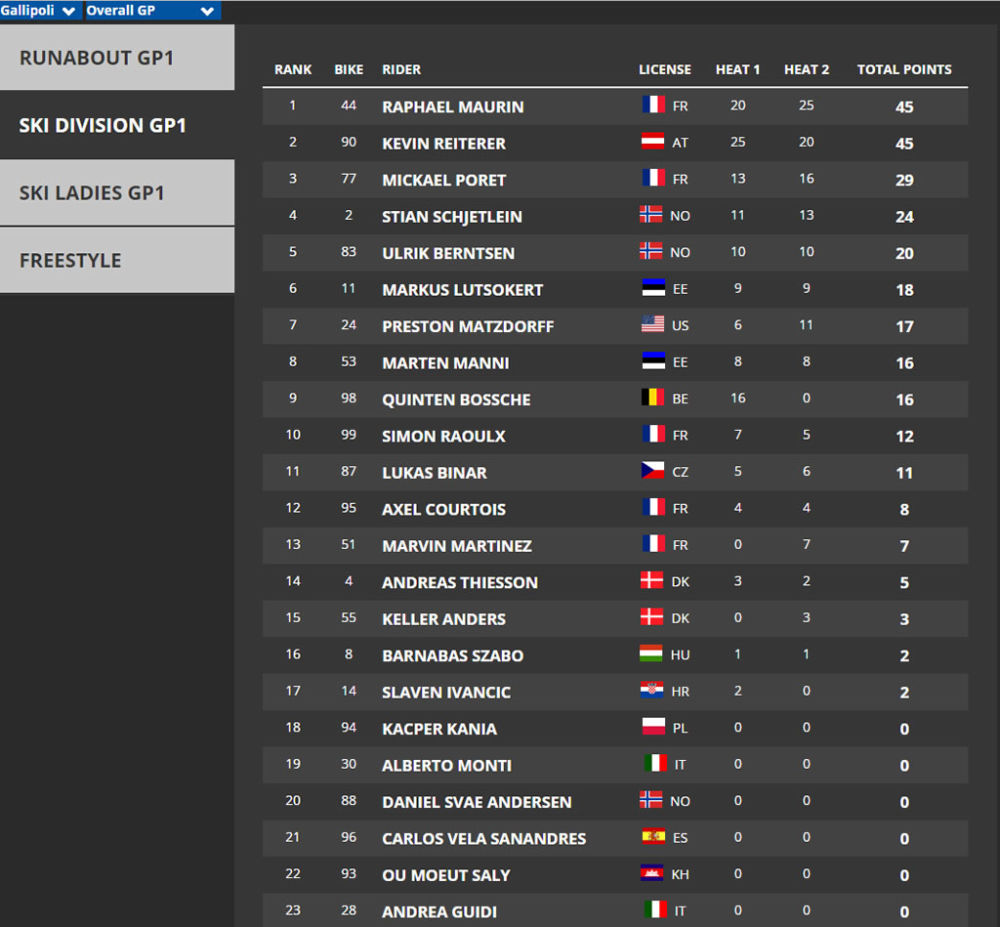 KRISTA UZARE CELEBRATES MAIDEN WIN AND GRAND PRIX TITLE IN SKI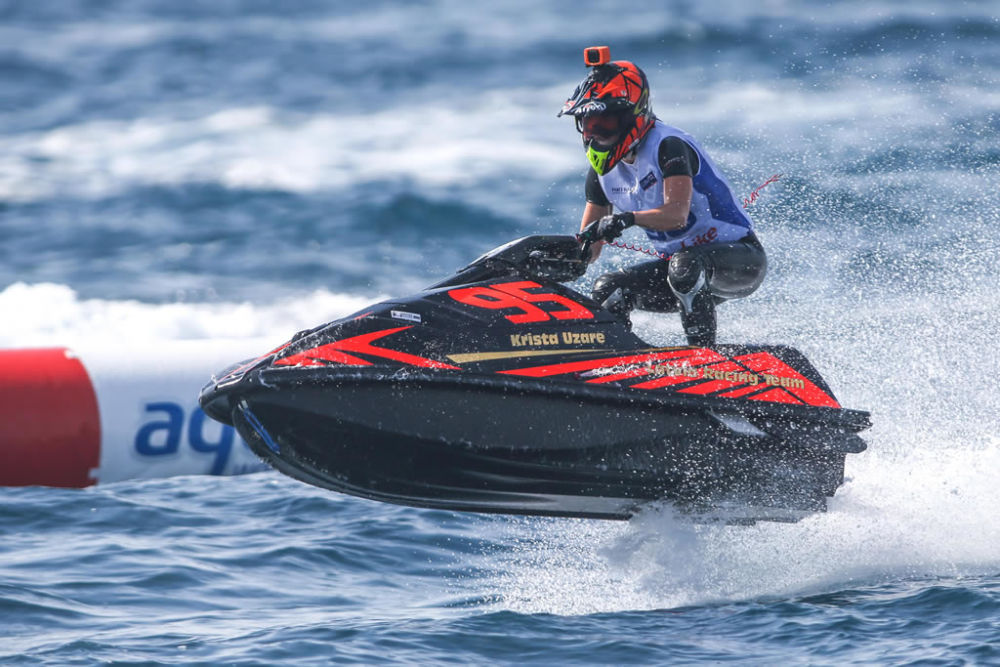 Sunday, 27 May, GALLIPOLI (Italy): Krista Uzare produced a brilliant performance to take her first Moto victory in the UIM-ABP Aquabike World Championship and win the season-opener UIM-ABP Grand Prix of Italy in Gallipoli.
Second place went to defending world champion and Moto 1 winner Emma-Nellie Ortendahl to seal the runners-up slot on the podium, with third place today and the final podium place going to Katriin Nilbe.
Uzare and Ortendahl enjoyed a titanic battle around the 25-pin circuit and treated the crowds to a spectacular race run in rough conditions and high temperatures and trading places at the front.
Uzare stole the advantage from pole -sitter Ortendahl off the beach and held the lead until lap 3 when the defending champion from Sweden swept passed her and opened out to a 4.5s lead. But the Latvian rider hit back and regained the upper-hand on lap 5 and going on to take her maiden win and Grand Prix title by 11.51s.
Katriin Nilbe trailed Kylie Ellmers for four laps before making the telling pass on lap 5 of nine to improve on yesterday's fourth spot and pick up her first UIM-ABP podium finish, Ellmers back on her number one bike and making up for yesterday's disappointment to bank her first points of the season in fourth.
Sophie Borgstrom was unable to match her brilliant third place run in Moto 1 but again was impressive finishing fifth to take her best overall result in fourth, narrowly missing the podium by just two points. Newcomer Jasmiin Ypraus grabbed her second sixth place of the weekend to take fifth overall with Mollie Fearn rounding out the top six, finishing in eighth.