2017 Lake Macquarie PWC Race Series Competitor Information Pack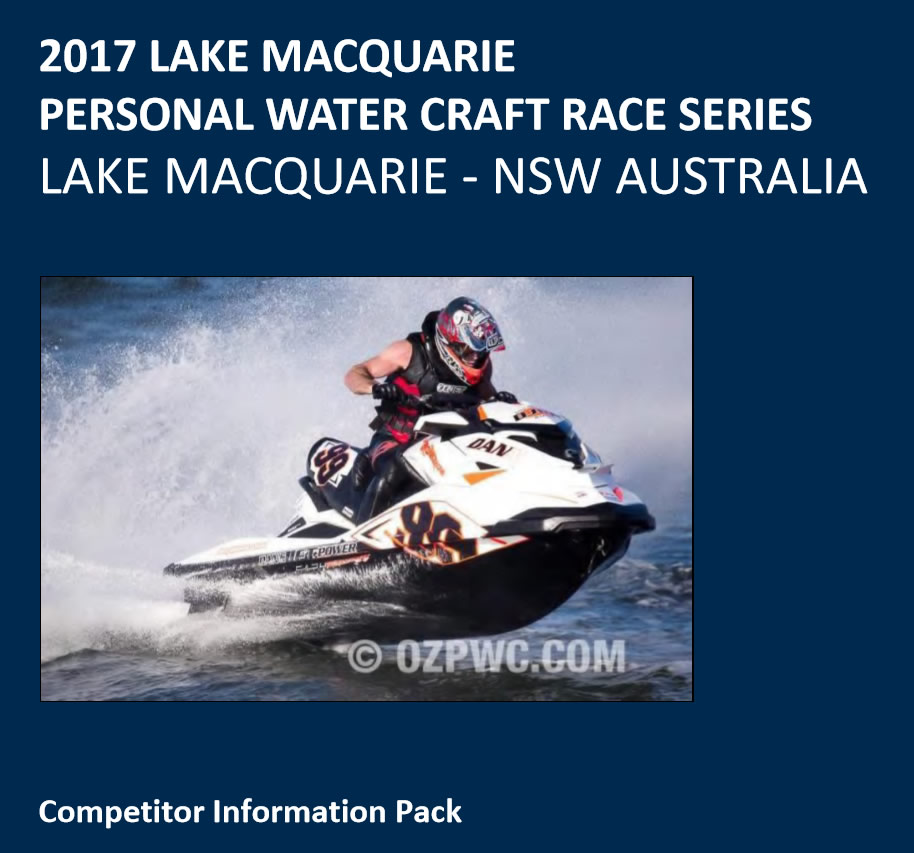 Click above graphic to download the Competitor Info Pack in PDF format.
The following process will be undertaken in relation to the entry for this event.
• 27 August 2017 – Competitor Entry Information Pack available
• 1 September 2017 – Entry Forms will be available
• 1-3 September 2017 – Priority Entry for Current AJSBA Race License Holders
• 1 September 2017 – Entries can be lodged from others (considered after 3 Sept 2017)
Note: Once an Entry Confirmation has been issued, Entry Fee's must be paid via EFT and receipt emailed to lakemacpwcrace@gmail.com within 48 hours for the position to be retained.
• 29 September 2017 – Official Entries Close (if class is not already full)
Hosted by the NSWPWC at Warners Bay NSW
Race Site: 1 Bareki Road, Eleebana NSW. (Lake Macquarie)
Date: 13-15 October 2017
More information: https://www.facebook.com/lakemacpwcrace
Email: lakemacpwcrace@gmail.com
Event Manager: Mark Glew
NSWPWC – www.nswpwc.org.au
AJSBA – www.ajsba.org.au
---
The inaugural 2017 Lake Macquarie PWC Race will attract Australia best PWC racers to the shores of Lake Macquarie NSW. Catering for both Endurance and Circuit formats, the event will be the first on the 2017/18 Australian racing calendar.
The event will be delivered in conjunction with the Lake Macquarie Big Weekend, which includes other key attractions like the Offshore Superboat races, Matt Hall Air show, and various foreshore markets, activities and attractions. Last year's Big Weekend (the first) attracted more than 20,000 spectators with limited attractions apart from the offshore Superboats. This year's event is expected to attract more than 30,000 spectators.