Death rocks jetski sport community
AUSTRALIA'S watersports community is mourning the loss of one of its most talented following the death of a 22-year-old jet-ski rider at the Watercross Nationals at The Spit yesterday.
Victorian competitor Joseph Scaturchio was coming into an early corner of a race at Marine Stadium when a collision occurred between three of the five competing machines.
Scaturchio was pulled from the water unconscious and paramedics spent up to 20 minutes trying to revive him.
Police divers are today searching the area.
Race organiser James Berger said Scaturchio had been competing on a runabout jet-ski during the third of four finals in the prostock class when the incident occurred.
"A serious injury was taken by a professional-level rider that has resulted in the fatality of that rider," he said.
"Initial investigations have shown that it was a racing incident and nobody is at fault."
The Australian Jet Sports Boating Association (AJSBA) posted a tribute on its website.
"Our very close-knit Personal watercraft racing community has suffered a tragic loss today during a race incident at the Australian titles," the AJSBA committee member wrote.
"For many of us, it has been the worst day of our lives. Please respect the families wishes during this tragic time."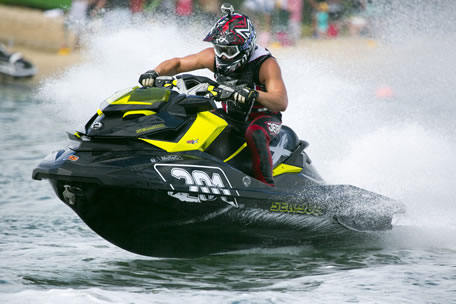 Mr Berger broke down as he commended the K38 Water Safety Australia crew who brought Scaturchio to shore, saying he had never seen anybody move so quick.
"I have never seen a rider recovered from the water so fast," he said.
"They had him (Scaturchio) on that rescue board in a matter of seconds."
Spectator Joe Murphy watched the incident unfold and said it was immediately obvious something had gone wrong.
"You could tell something had gone wrong because all of the other competitors pulled back," he said.
"They (rescuers) grabbed him by the vest and put him on the back board of their ski and brought him into the rescue tent."
Mr Murphy said it was difficult to see what had caused the machines to collide due to the spray caused by the jet-skis.
"There were so many skis heading for that one corner so it's hard to say whether he got hit by a ski or if he came off and then got hit by another ski," he said.
Acting Senior Sergeant Mark Austin said it was unclear what had caused the incident that led to Scaturchio's death.
"I believe he did suffer some kind of head injury but to say how the accident occurred is difficult due to the amount of spray involved," he said.
The incident marks the second death at an Australian titles event on the Gold Coast this year following the death of Matthew Barclay at the Australian Surf Life Saving Titles last month.
Sen-Sgt Austin said there were always risks involved in marine sports and that investigations would continue.
http://www.goldcoast.com.au/article/2012/04/23/409841_gold-coast-sport.html
Please review forum, social media links to tributes & messages:
OZPWC Forum>> Nationals 2012
OZPWC Facebook:
In Memory of Joey Scaturchio Facebook page