UIM-ABP AQUABIKE RIDERS READY TO RESUME RIVALRIES AT GRAND PRIX OF DUBAI
Wednesday, 22 November, DUBAI (UAE): The battles for the most coveted titles in world jet ski competition will ratchet-up a gear and reignite this week when rider rivalries resume at the Grand Prix of Dubai, the penultimate round of the 2017 UIM-ABP Aquabike World Championship.
Sixty one riders from 26 countries will take to the waters off Kite Beach, Jumeirah as the championship returns to Dubai for the first time since 2003 and 22 years after hosting the first ever UIM Aquabike World Championship in 1995.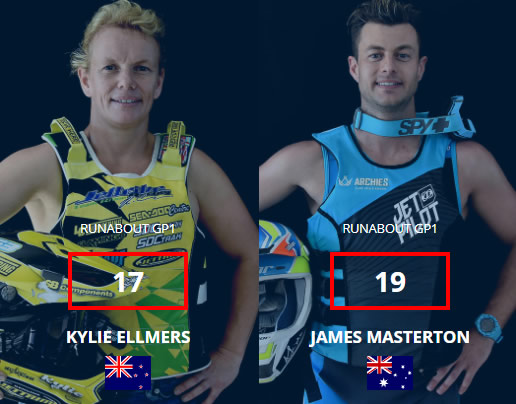 The introduction of a three-moto format at the Grand Prix of Dubai and at the final round in Sharjah in December means a maximum 150 points are on offer, with the world titles in all championship categories, Runabout GP1, Ski GP1, Ski GP1 Ladies and Freestyle wide open.
In Runabout GP1 defending champion Yousef Al Abdulrazzaq is currently on top of the standings with 70 points, 20 clear of James Bushell with Lars Akerblom a further two points adrift.
Kuwaiti Abdulrazzaq is chasing a fourth world title and Briton Bushell a first and head into this week's encounter after trading Moto wins and each winning Grand Prix titles in Italy earlier in the year, with the ever-consistent Swede Akerblom picking up three third places and a podium.
France's Poret brothers Jeremy and Mickael lockout the top spots in Ski GP1, 78 to 70, with rising star and UIM-ABP tour debutant Quinten Bossche in third with 66 points.
Jeremy Poret is on track for an unprecedented fifth crown, winning the season opener but losing out to his elder brother Mickael [Poret] in round 2. But the rider to watch out for is Belgian rider Bossche who grabbed a Moto win and podium on his UIM-ABP debut in Italy in June.
In the fight for the Ladies title Estelle Poret has a ten point advantage over defending champion Emma-Nellie Ortendahl after winning both Grand Prix of the year, with Kylie Ellmers in third and enjoying her best season on the tour.
In the spectacular upside down world of Freestyle the big news is that defending four-time world champion and points' leader Rok Florjancic will not take part after damaging his eardrum in the summer, leaving the door open for his younger brother Nac to grab the advantage as he pushes towards a second title and is currently sitting in second place overall. But he will face stiff opposition from UAE rider and two-time Grand Prix winner Rashed Al Mulla, the only man to have beaten the Florjancic brothers in recent seasons.
The action kicks off on Thursday morning with practice starting at 0930hrs followed by Official Qualifying at 14.30hrs. Motos 1 and 2 take place on Friday, with the final Moto of the UIM-ABP Grand Prix of Dubai on Saturday afternoon.
[Official Qualifying and all three Motos of the UIM-ABP Aquabike Grand Prix of Dubai will be broadcast live on Dubai Sports TV and Abu Dhabi TV and streamed live on the championship's official web site aquabike.net]