UIM-ABP AQUABIKE CROWNS IT CHAMPIONS IN SHARJAH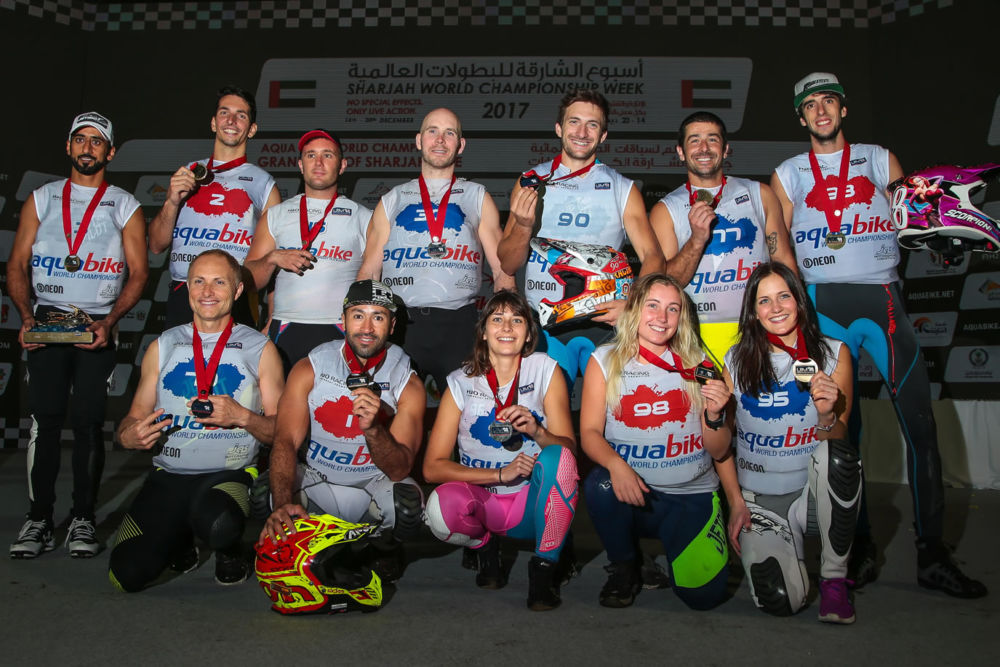 Wednesday, 20 December, SHARJAH (UAE): Sharjah served up a fitting finale to close out the 2017 UIM-ABP Aquabike World Championship, with today's final Moto deciding the Sharjah Grand Prix winners and the event closing with the crowning of the world champions.
It was a day for champions with Yousef Al Abdulrazzaq, Quinten Bossche and Emma-Nellie Ortendahl reaffirming their status as worthy world champions taking the Sharjah titles in Runabout and Ski.
But it was not the result the four-time Runabout world champion Abdulrazzaq had hoped for, securing the overall victory with third place, the Moto win and second place overall going to Lars Akerblom.
Akerblom made a blistering start and the only rider able to live with his pace was Andrzej Wisniewski who produced by far his best performance of the season and followed him to the chequered flag to take the final podium spot. Australia's James Masterton again suffered Supercharger failures that took him out after the first moto eventually scoring 19th overall from 32 in the World Championship standings.
In Ski there was a bitter twist in the tale for Moto 1 and Moto 2 winner Kevin Reiterer who led from the start but broke down half way round lap 1 handing the lead, the win and the Grand Prix title to Quinten Bossche, capping a great year end for the young Belgian rider.
Despite not finishing Reiterer's two wins yesterday were enough to give him the runners-up slot, with Stian Schjetlein finishing second today to take third on the podium.
Bossche was unchallenged and cruised to the chequered flag with a 40 second margin over Schjetlein. Axel Courtois produced his best result of the year finishing in third, with Mickael Poret's fifth place securing third place in the overall world championship standings behind Bossche and Reiterer.
In the Ladies division there was no holding back Emma-Nellie Ortendahl who led from start-to-finish to complete the win hat-trick by 12.66s and claim her second successive Sharjah title and remain unbeaten on Khalid Lagoon, starting from pole position twice and winning five times in two years. New Zealand's Kylie Ellmers scored a podium (3rd) at Sharjah and just missed out on a 3rd overall in the World Championship standings by just 8 points having to settle for 4th overall from 12 entrants in Ski Ladies GP1.
Krista Uzare rounded out a great weekend to take second place and chalk up her best overall result of the season and her first podium. Third place in today's Moto went to Estelle Poret to seal the runners-up spot in the world championship standings, but it was Kylie Ellmers who took the remaining Grand Prix podium place after finishing in fourth.
The only world title do be decided was in Freestyle and it was Nac Florjancic who claimed it, but it was Rashed Al Mulla who has been the standout performer over the last three days and sealed the Sharjah Grand Prix title with another incredible display of aerial acrobatics taking the win by 88 points to 87 over Florjancic with Roberto Mariani in third.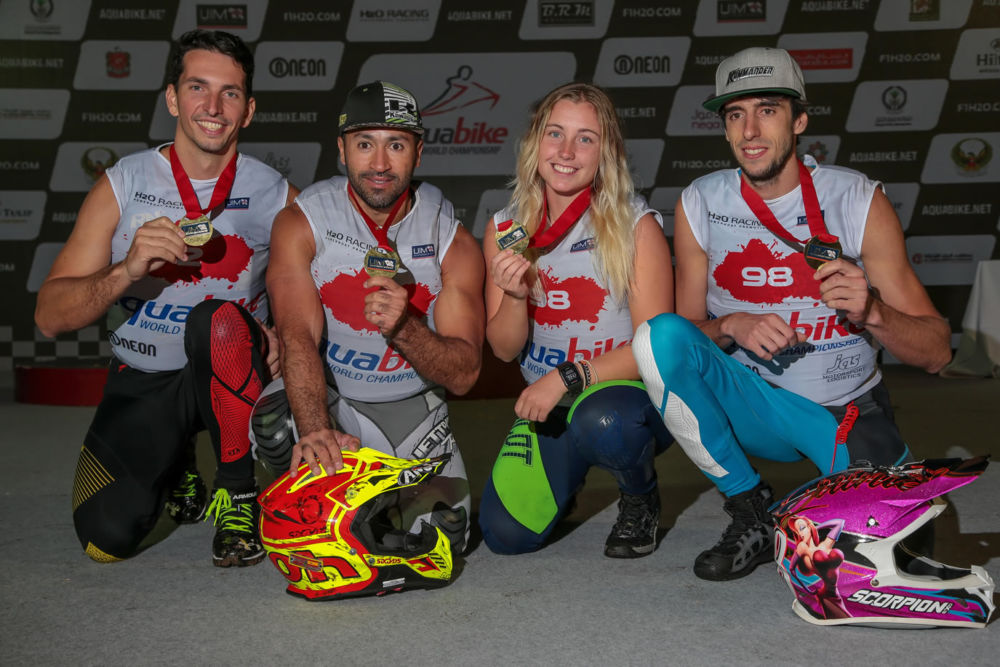 SHARJAH GRAND PRIX WINNERS:
Runabout GP1:
1. Y Al Abdulrazzaq (kuw) – 66pts
2. L Akerblom (swe) – 58pts
3. A Wisniewski (pol) – 42pts
Ski GP1
1. Q Bossche (bel) – 65pts
2. K Reiterer (aut) – 50pts
3. S Schjetlein (nor) – 47pts
Ski GP1 Ladies
1. EN Ortendahl (swe) – 75pts
2. K Uzare (lat) – 56pts
3. K Ellmers (nzl) – 38pts
Freestyle:
1. R Al Mulla (uae) – 75pts
2. N Florjancic (slo) – 60pts
3. R Mariani (ita) – 48pts
UIM-ABP AQUABIKE WORLD CHAMPIONSHIP:
Runabout GP1
1. Y Al Abdulrazzaq (kuw) – 186pts
2. L Akerblom (swe) – 155pts
3. J Bushell (gbr) – 127pts
Ski GP1:
1. Q Bossche (bel) – 196pts
2. K Reiterer (aut) – 140pts
3. M Poret (fra) – 133pts
Ski GP1 Ladies:
1. EN Ortendahl (swe) – 212pts
2. E Poret (fra) – 165pts
3. K Uzare (lat) – 141pts
Freestyle:
1. N Florjancic (slo) – 191pts
2. R Mariani (ita) – 165pts
3. R Al Mulla (uae) – 150pts
For full classifications/results: http://aquabike.net/results
For World Championship standings: http://aquabike.net/standings