Sydney Sea-Doo Performance launches full carbon range for RXP-X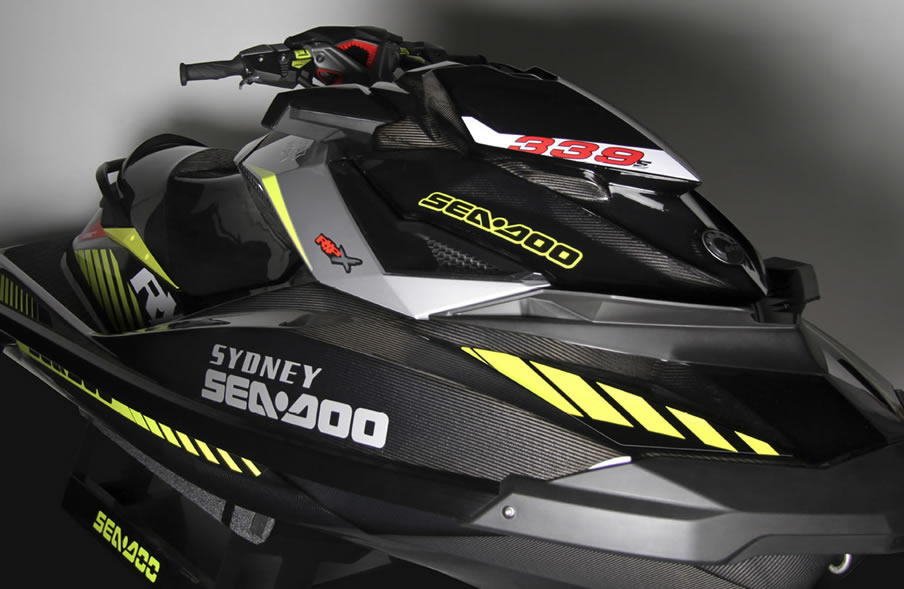 Media Release 31 May 2017 : Sydney Sea-Doo Performance are proud to release the much-anticipated, bespoke range of products for Sea-Doo Watercraft. The all-new, unique product line raises the bar in PWC carbon technology, showcasing intricate design with high attention to detail.
All pieces are designed in-house by Sydney-Doo Performance and manufactured by one of Australia's most respected carbon-composite engineers, with 20 years experience working alongside factory Supercar and Superbike teams. All pieces featured in the catalogue, including the 'WF' series hull have been developed over four years both on and off the race track seeing countless hours of testing and change.
"When starting out this project our goal was to manufacture carbon fibre products of the highest level," says Sydney Sea-Doo owner James Masterton "this meant not only did they need to be lightweight but also structural. We wanted to produce the same quality as being used by factory race teams on two and four wheels and price was no option."
Sydney Sea-Doo Performance will be debuting the entire 2017 product range on the UIM Aquabike World Championship tour beginning this weekend June 2-4 in Porto Cesareo, Italy.
PRICING (AUD + GST)
CARBON L.E 300 | CARBON L.E 339 | CARBON L.E 379 'WF' Series Hull $32,000
Carbon Fibre Race Hood $1,900
Carbon Fibre Race Seat $2,950
Carbon Fibre Race Sponson $870
Carbon Fibre ECM Cover $495
Six-Shooter Rocker Cover set $900
Bar Extension/ Handle Grip set $105
Billet Thru-Hull Fitting $280
Billet Steering cable mount $200
Billet Pump Shoe $2,300
Enquiries: jm@sydneyseadoo.com
Please note: All product is available now and will be active in the Sydney Sea-doo online store by the end of next week.
Click here to open the full catalogue in pdf format