Media Information Day – Lake Macquarie PWC Race Event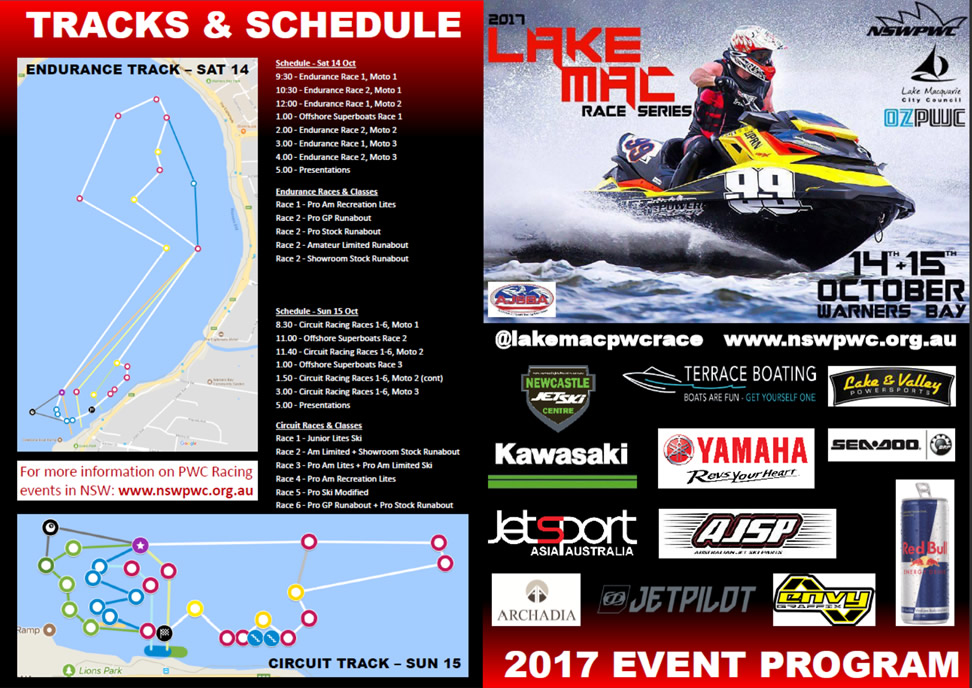 Lake Macquarie will experience the adrenalin and excitement of PWC (Jet Ski) Racing as part of the Lake Mac Big Weekend on October 14 & 15. The event will play host to several current and former World Championship winning riders, plus several pro riders from across the world including, Thailand and New Zealand. In addition to this, Australia's best riders from across the country will be attending including the current Australian No.1 ranked pro riders, being Paul Leven, Justin Windsor & Christian D'Agostin. Other notable rider include Current and Multiple World Champion New Zealand rider Kylie Ellmers, and the regions own local World Champion James Xuereb (Salt Ash), and Australian Champion Michael Stevens (Dora Creek).
MEDIA DAY DETAILS
Friday 13 October 2017 from 3.30 – 4.30pm
Lions Park, Eleebana Boat Ramp & Foreshore, 1 Bareki Road Eleebana, NSW
The NSWPWC will be hosting a media session to enable the media to preview the event. Guests & media will have the opportunity to inspect several of the race craft and interview a couple of the countries top pro class riders. We will also have craft avaliable where a pro rider will be able to take the media & guests on a 'hot lap' of the course (expect to get wet!!!).
Several local personalities will be attending and experiencing a hot lap around the track, including:
Mayor Kay Fraser – Mayor of Lake Macquarie
Aaren Russell – V8 Supercar Driver for Lucas Dumbrell Motorsport
If you would like to attend this session, or would like some further details on the event, please contact the Event Manager, Mark Glew – 0407 484 966 or lakemacpwcrace@gmail.com
General Event Details
Saturday 14 Oct – Endurance racing from 9.30am to 5pm.
Sunday 15 Oct – Circuit racing from 8.30am to 5pm.
The event will feature both types of PWC's in various formats.
Larger craft known as 'Runabouts' may produce more than 500hp, accelerate from 0-100km/h in under 1.8 seconds and reach speeds in excess of 150km/h. Whilst the smaller more nimble craft known as 'Skis' can produce more than 200hp and achieve speeds of 120km/h.
Saturday PWC racing will focus on a longer endurance track format for just the Runabouts, with races lasting 30 minutes. On Sunday both Ski's & Runabouts will compete separately in the circuit racing, which is similar to motocross, with races lasting only 8-10 minutes each.
The best viewing spots for the event will be from the Eleebana foreshore and the suspended Watagan cycle track.
For further details on the event, please contact:
Event Manager – Mark Glew
M: 0407 484 966
E:lakemacpwcrace@gmail.com