Jet Ski World Cup 2017 – Report and Results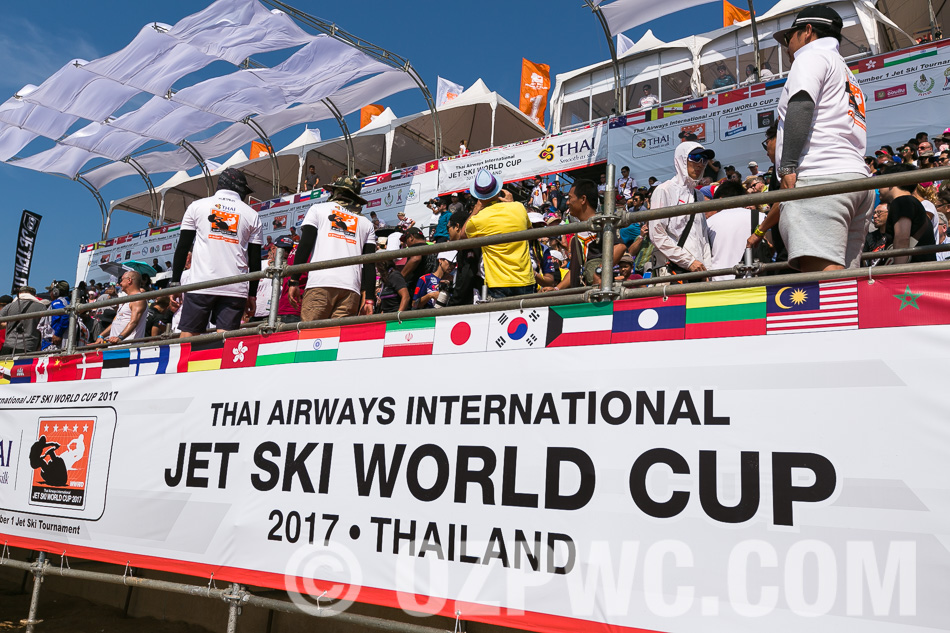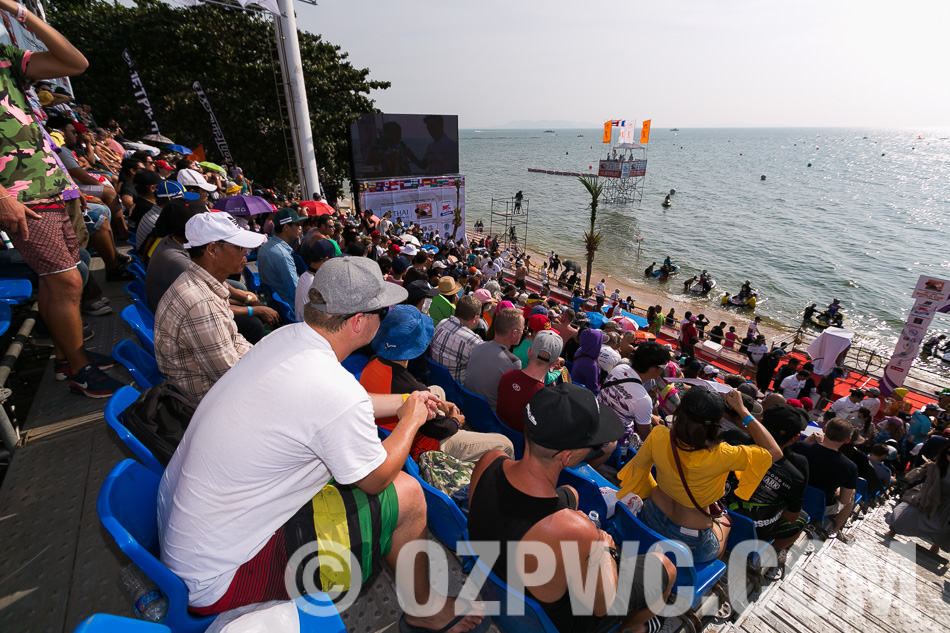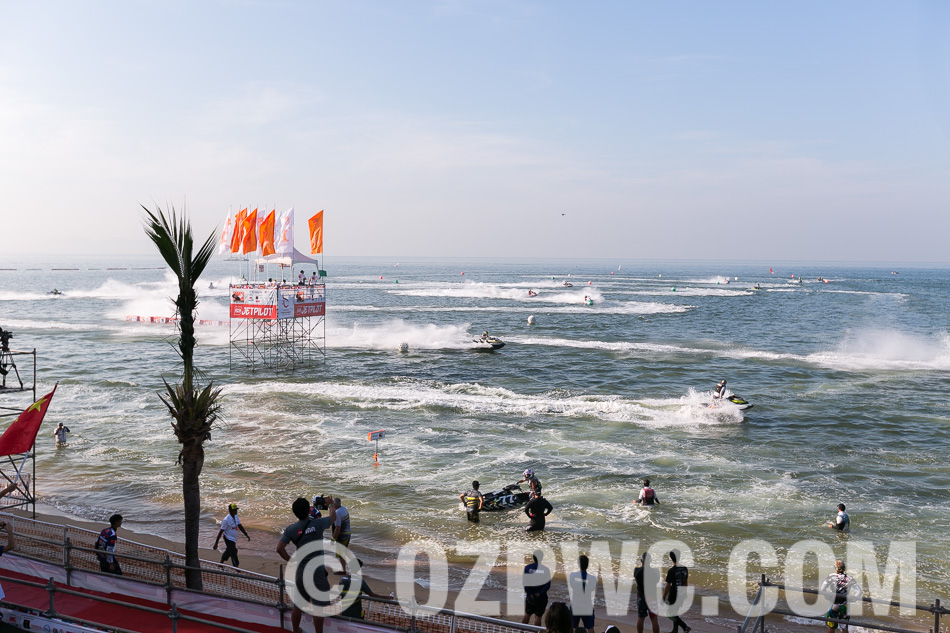 December 7-10, Jomtien Beach Pattaya City, Thailand.
Once again the annual event to top all others continues to impress, a who's who of International top level racers attracted by the huge prize money, the thrill of racing the best in the world at a location rich in culture and tradition topped by Thai hospitality and respect to all. It's a formidable force in jet skiing, bookending the year with one last hurrah and a wad of cash to take home for Christmas, if your lucky. Australia and New Zealand were represented by Kylie Ellmers NZ (Pro-Am Womens Ski Limited), Christian D'Agostin (Pro-Am Endurance), James Masterton (Pro Runabout GP), Guy Greenland (Pro Runabout GP), Mitch Casey (Pro-Am Runabout Stock), Sebastian Birch (Pro-Am Runabout Stock), Bailey Cunningham (Pro-Am Runabout Stock) and Jamie-Lee Spence (Novice Runabout Stock + Pro-Am Womens Ski Limited).
With Pro Runabout GP entries up 50% over last year we saw qualifying over 2 heats for the first time, Masterton and Greenland making the cut for the main event on Sunday, not without drama however as Greenland made it late to the grid in his heat and missed the start altogether but was allowed to join the pack and thankfully made his way past several riders to make top 7, the cut off for automatic qualifying.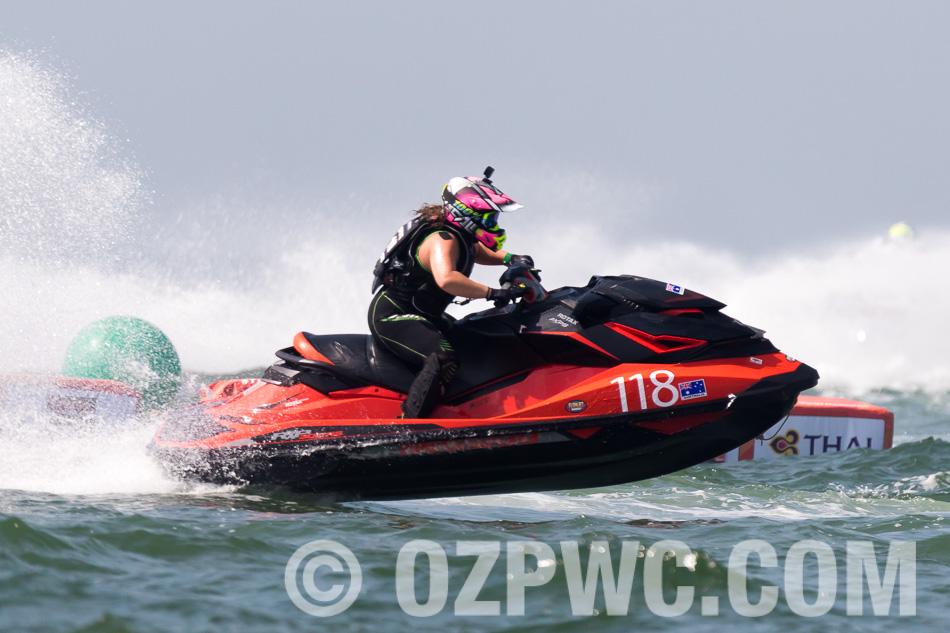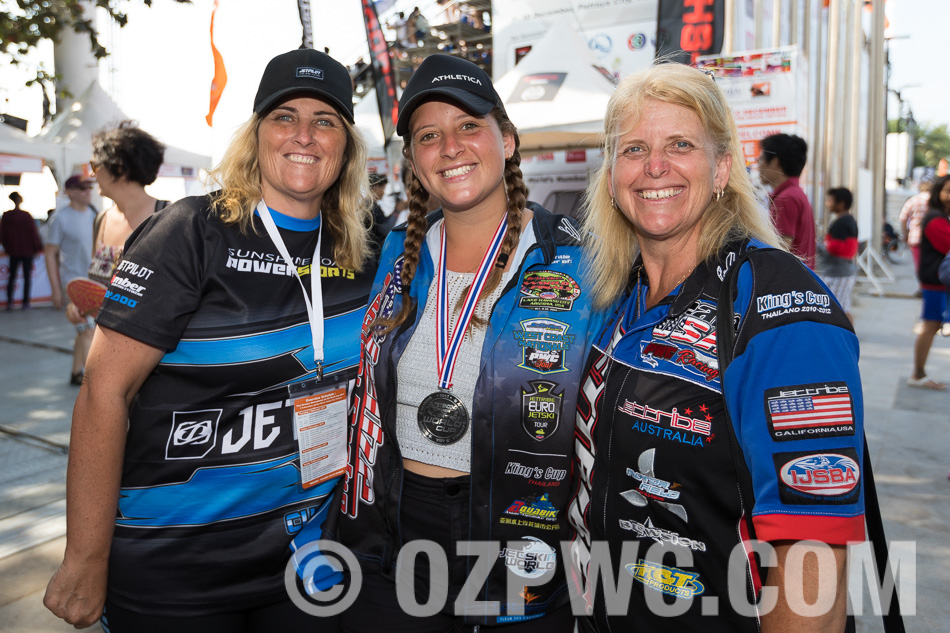 Saturday's comp saw Jamie-Lee Spence have a crack in Novice Runabout Stock and her first heat was up into 5th before a racing incident saw her topple down the order, from there it was a struggle and she finished 9th overall. 2 more heats and she bagged enough points for 12th overall.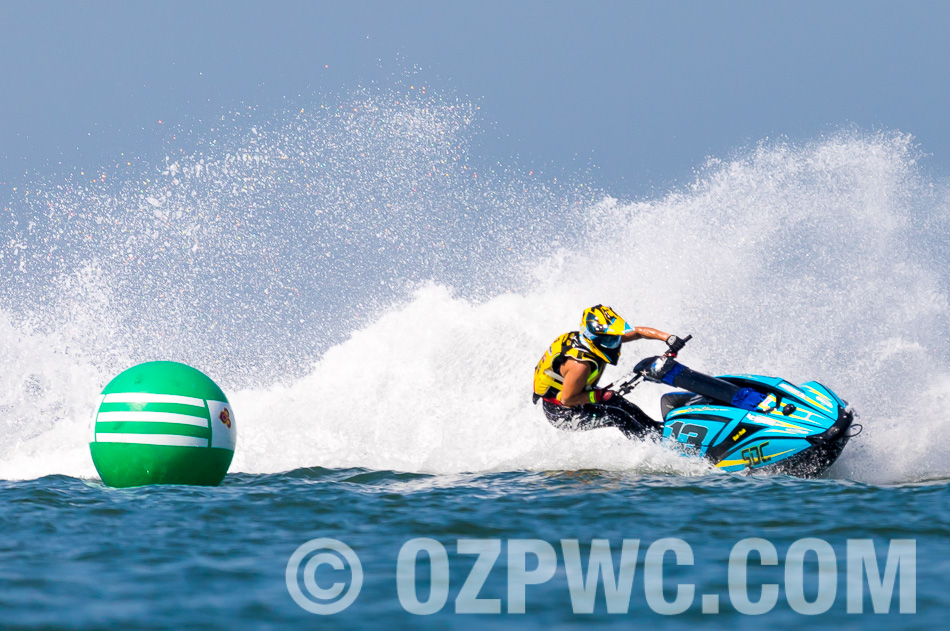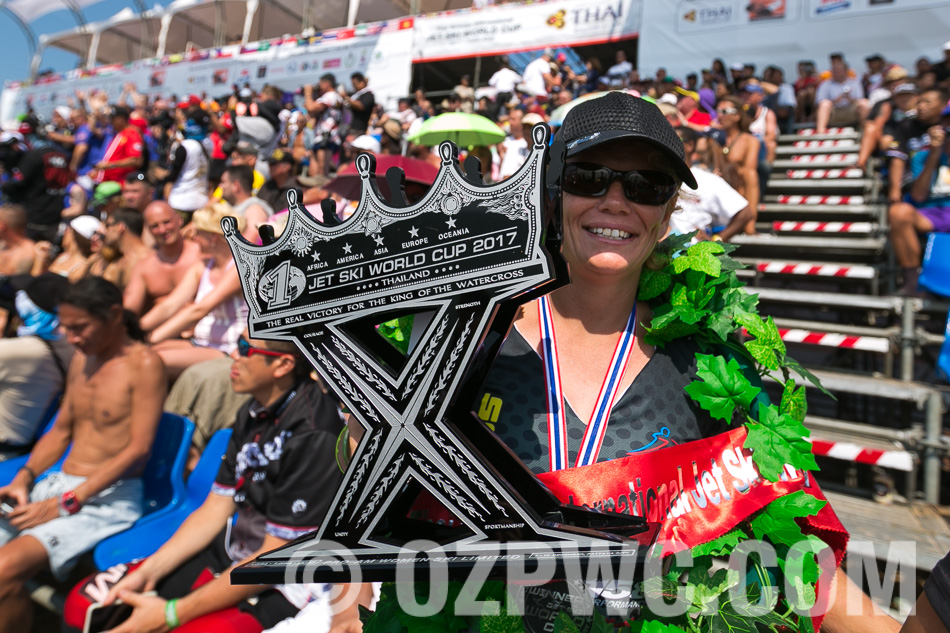 Two Pro-Am Womens Ski Limited heats were also run on the Saturday with Kylie Ellmers and Jamie-Lee entered in a class of nine. Ellmers was in fine form and blitzed the field to win 3 out of 4 motos with hard charging Japanese rider and last years 2016 King's Cup Champion Yukiko Kume the only rider to beat her. Her victory speech gave credit to the technical skills of Gyorgy Kasza who re-flashed her ECU with his magic on her SDC SXR1500. Jamie-Lee made a valiant effort but couldn't improve on an 8th or 9th place finish in any heat.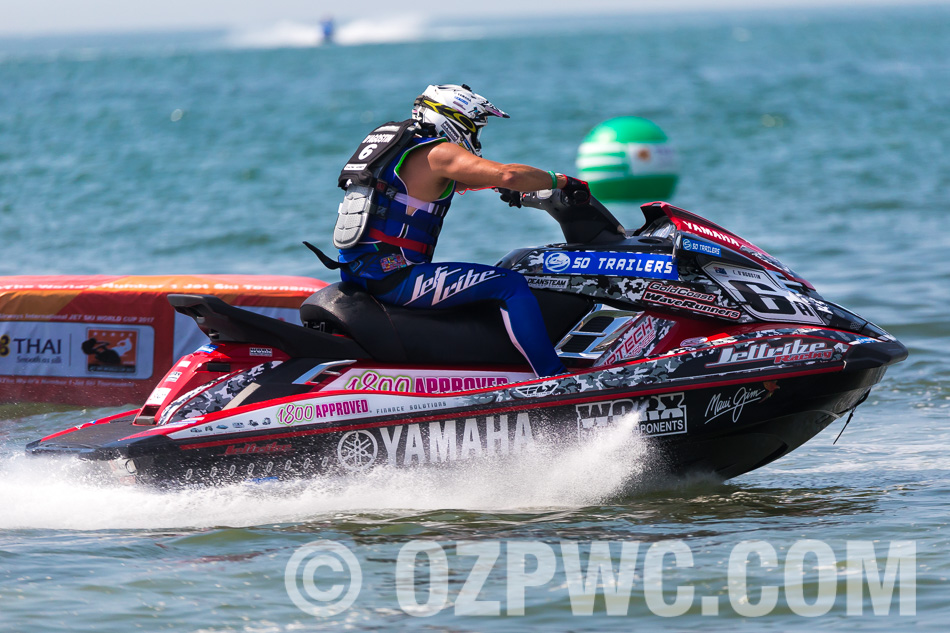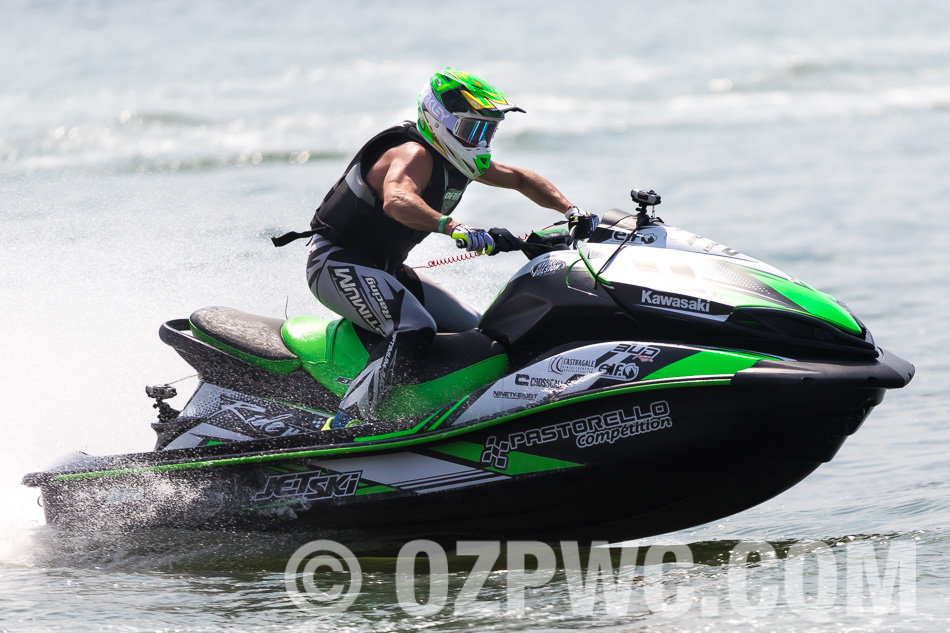 The first moto of the Pro-Am Endurance race was also Saturday and our 2016 King's Cup Endurance Champion Christian D'Agostin (YAM) was placed well in the top five and ready to strike when an intercooler hose came loose and his day was done, a very disappointing first moto only compounded the next day in moto 2 when again, despite overnight repairs the same problem surfaced putting him in 19th overall from 38 entrants.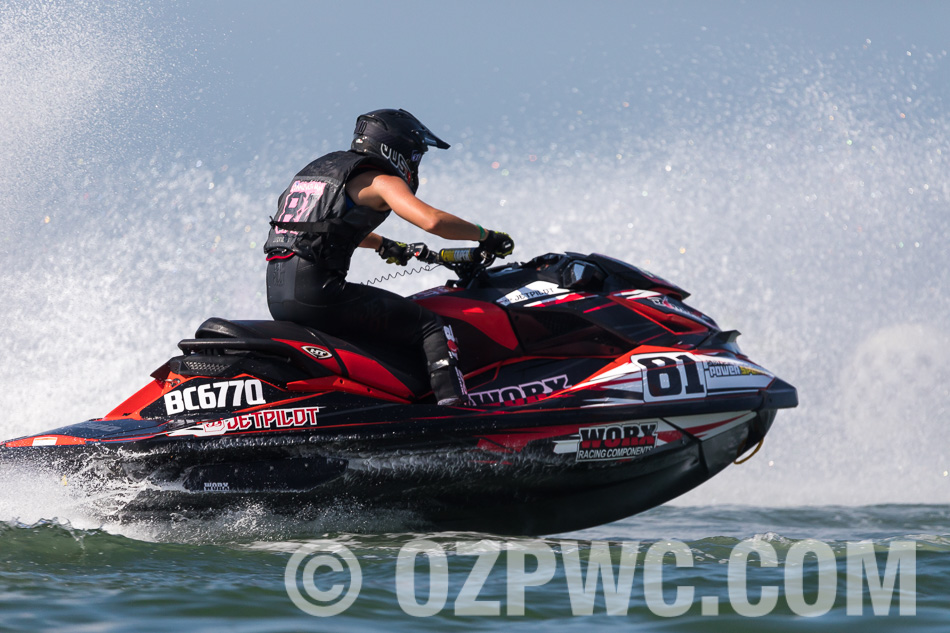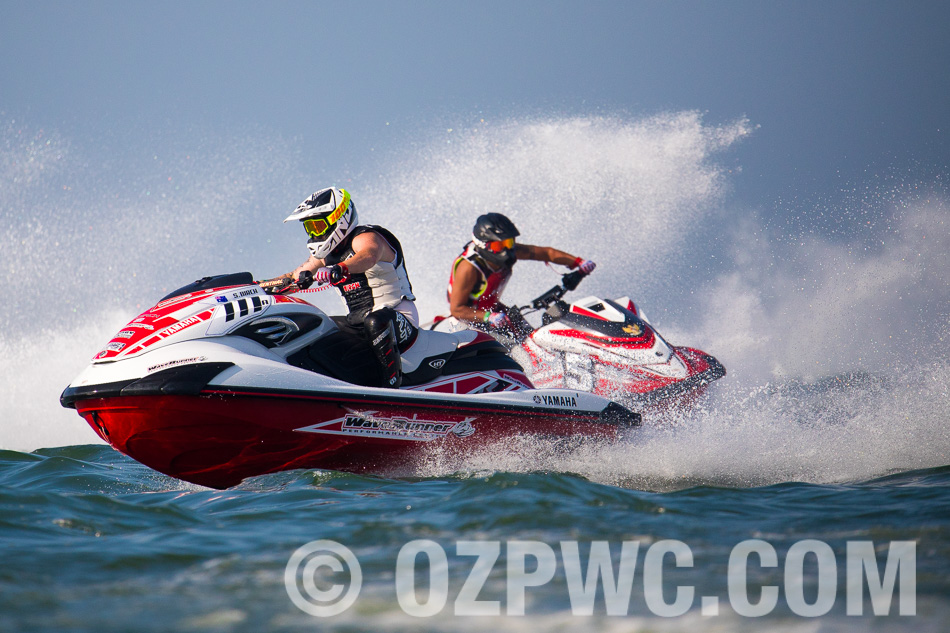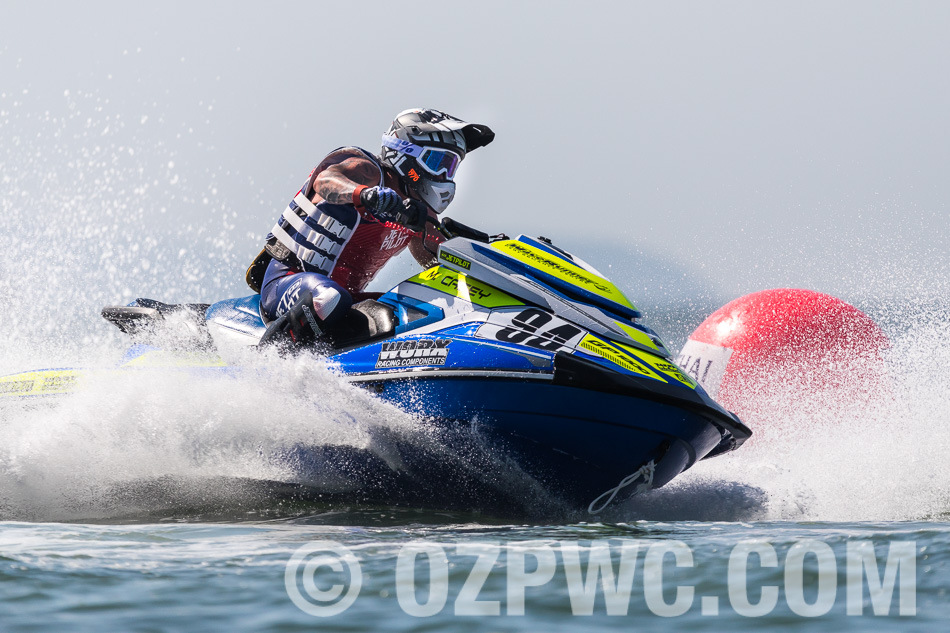 The hard fought and incredibly competitive Pro-Am Runabout Stock class had 16 entries and 3 Aussies competing with Bailey Cunningham (SD), Mitch Casey (YAM) and Sebastian Birch (YAM) all for the first time. Cunningham was the best of the 3 in heat one with a 7th but heat 2 saw a collision that pretty much put him out of the competition re-injuring the shoulder that has only recently been reconstructed. Casey was fast out of the gate but there's no easy racing in this class, you let up for a second and someone is ready to pounce. He took out an 8, 9 and 10th before electrical issues cut him from starting the final heat. Birch also was learning from the class of hard knocks but was the only Aussie to finish every heat scoring 11th overall on the Waverunner Performance Centre FZR.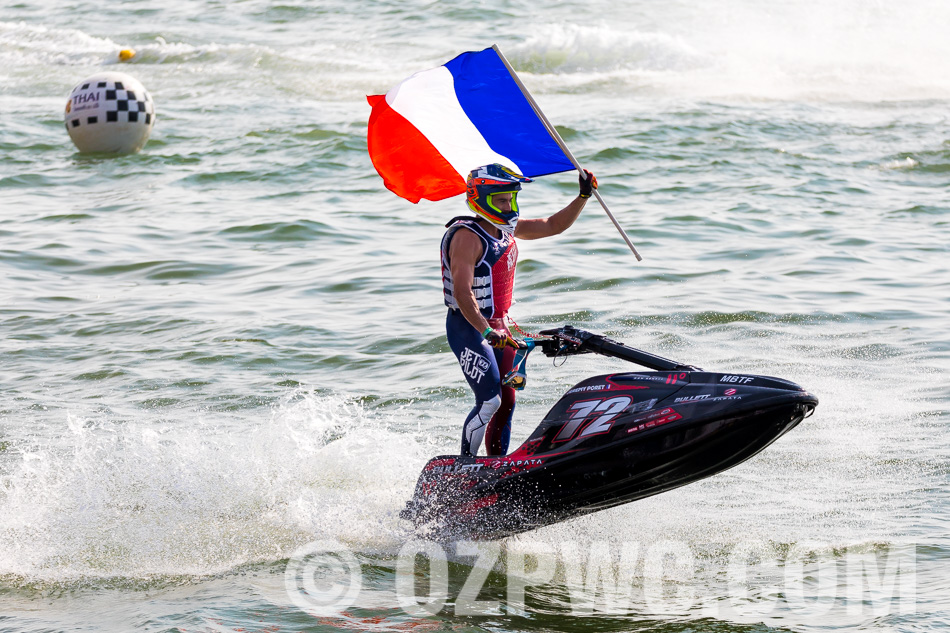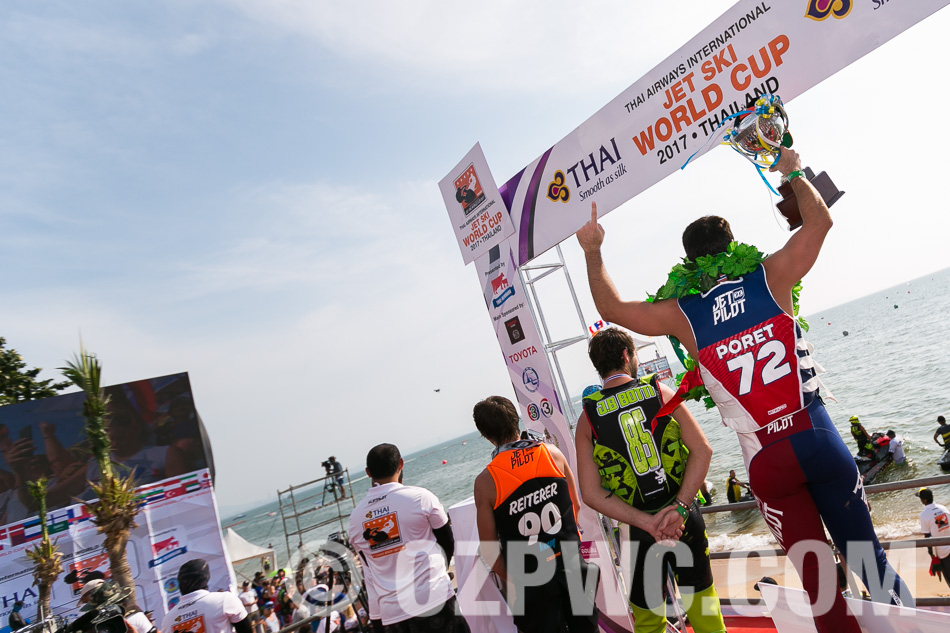 Sunday was all Pro and some incredible action from the Runabout GP and Ski GP classes. First moto of Pro Ski GP was all Reiterer blisteringly fast on his new Kawasaki SXR1500 out in front and seemingly untouchable until disaster struck on the penultimate lap with a cooling hose blowing off, filling the hull with water and sinking his ski. From there it was nigh on impossible to make a challenge for the cup, very cruel luck given his impressive form now that he has mastered the particular nuances of riding the big ski. As per last year France's Jeremy Poret was ready to pounce and scored the victory on his Bullet 2-stroke screamer. The next day saw 2 more dominant victories by the likeable Frenchman to take his second Jet Ski World Cup Pro Ski GP title and $US45k prize money. Reiterer was back on a borrowed SXR the next day and took a victory in the last moto but of course he was out of the points leaving Frenchmen to capture the top 3 places with Botti Jean Baptiste second and Raphael Maurin third.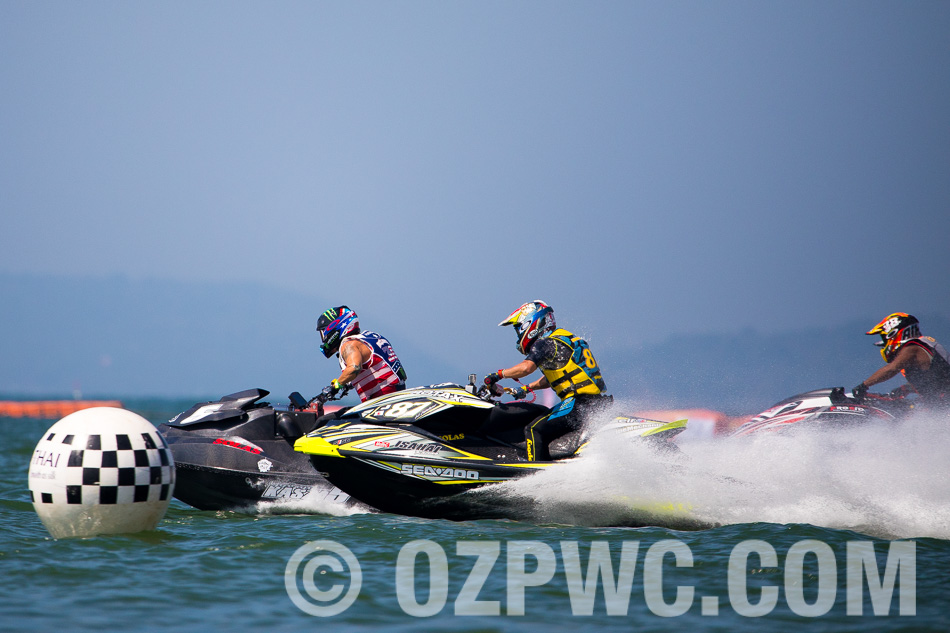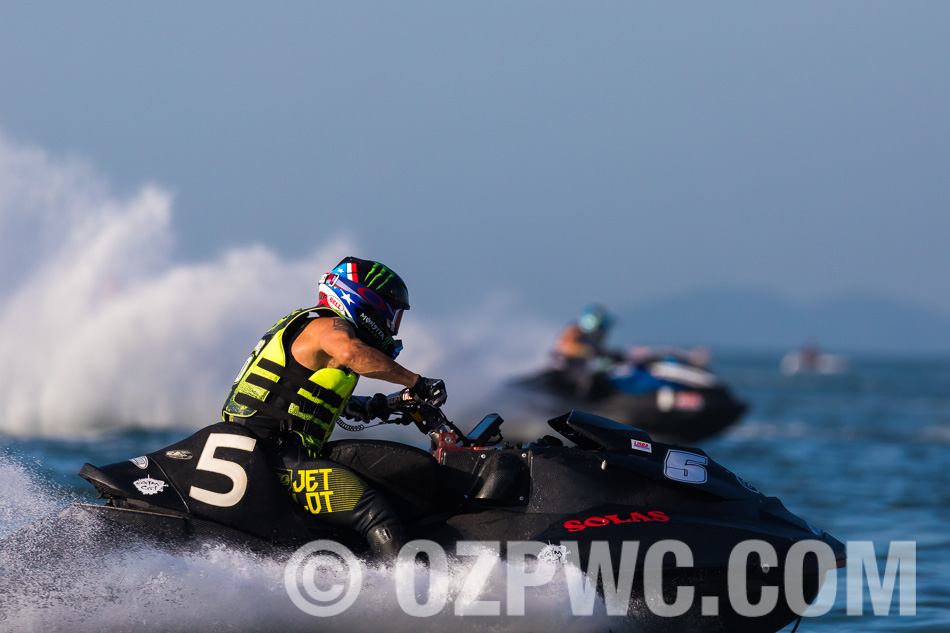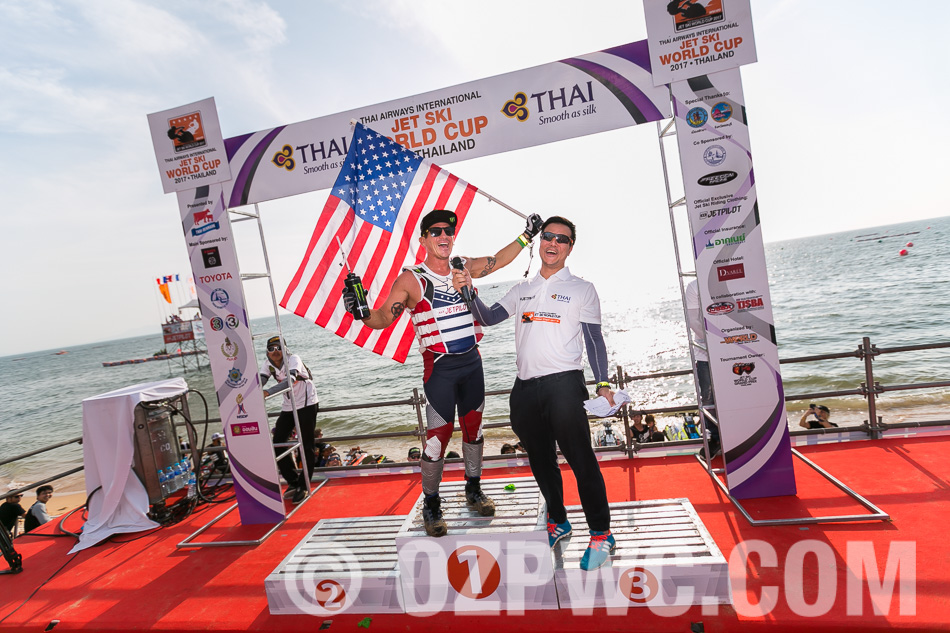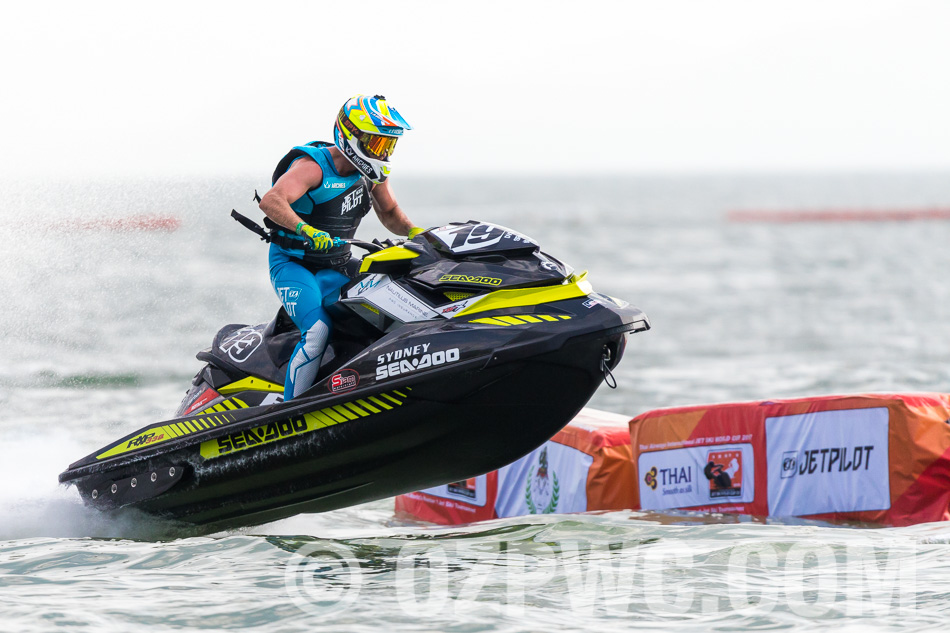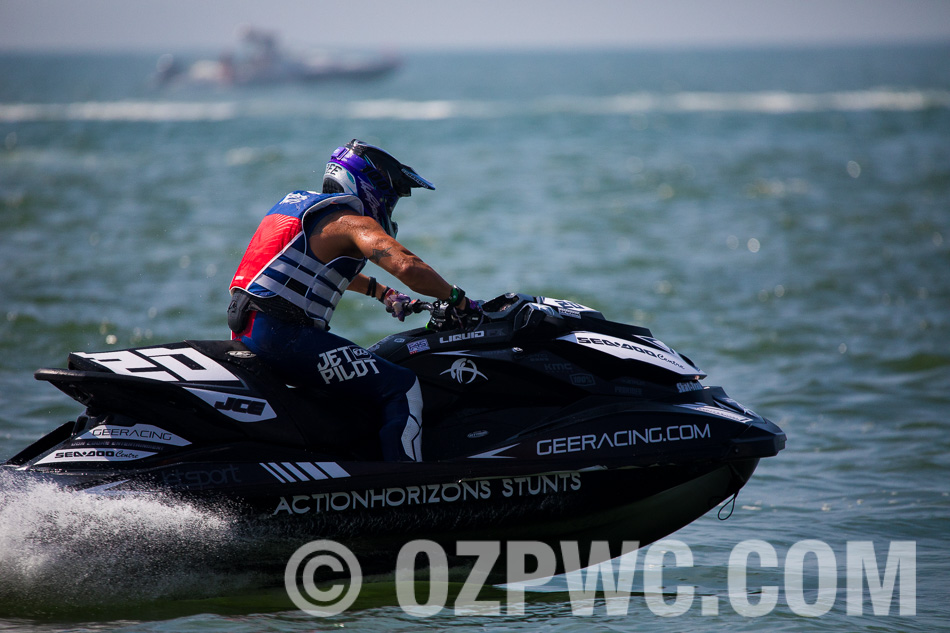 Pro Runabout GP was highly anticipated with the shock news that multiple champion Chris MacClugage would be piloting the Kasza #5 ski leaving Kasza on the beach. All that Kasza would say was that he wanted to see someone else ride the beast that he took to King's Cup victory last year. Whether he has retired is not known as yet but he certainly is top of the game in terms of making incredibly fast skis that go the distance, his technical skills very much evident across the 3 major categories with Ellmers, Reiterer and MacClugage all in a league of their own with his ECU flashes and specialist parts. MacClugage was elated to pilot the #5 to victory in all 3 heats ratcheting his incredible career up another notch with success in what could be his last year at the game, something he alluded to in his victory speech where he gleefully shot down the naysayers who said he was finished and past it. Kuwait's Muhammad Burbaya was 40 points behind to grab runner up and Waleed Alsharshani from Qatar was third. Guy Greenland was the best placed Aussie and was unlucky to miss out on 6th overall in a countback with Teddy Pons knocking him into 7th. Masterton had a shocker, having a hard time coming to grips with his setup on the Sydney Seadoo RXPX and even going for a swim at one stage. He finished 12th overall in the 22 strong field.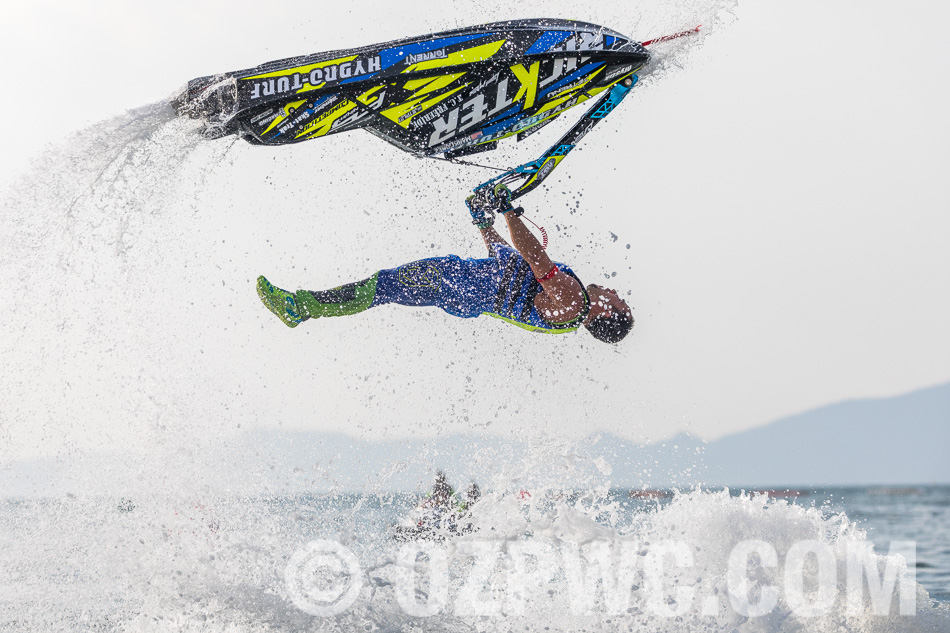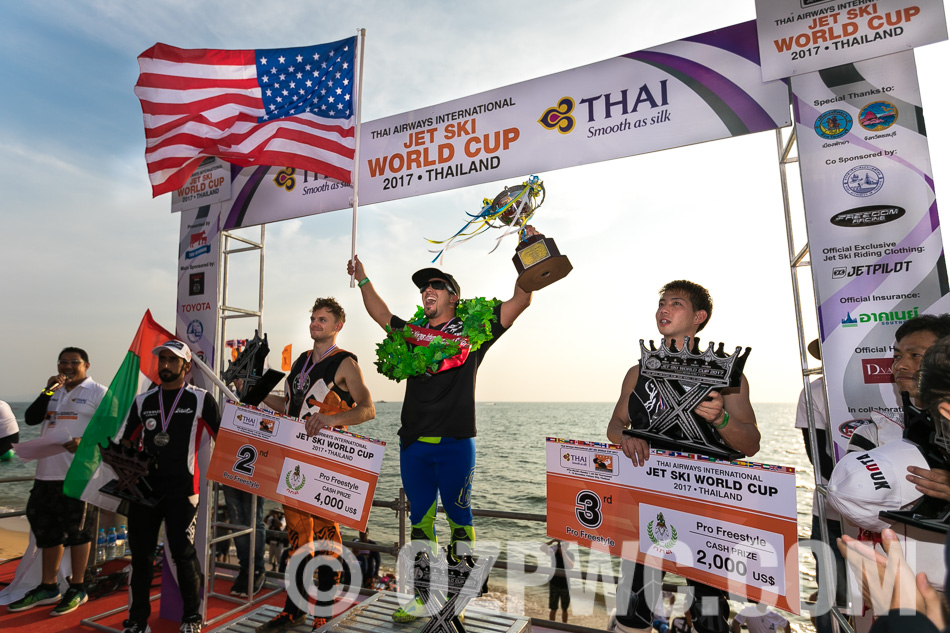 Closing out the competition was Pro Freestyle and an expected showdown between the UK's Lee Stone and Mark Gomez from the USA, both visiting Thailand and the Jet Ski World Cup for the first time. Throwing caution to the wind Lee Stone opted for a double backflip as his first trick on the Saturday heat even though water conditions were not the best to get the take off he needed to make it happen, disaster struck when he underotated and could not restart his ski when it took on water. Last place and a hell of a lot of points to make up ruined his weekend. Gomez capitalised putting in a solid routine to take out the first heat win. The Sunday heat was all Stone as he threw everything into an amazing sequence of tricks that kept coming however he could not keep Gomez from taking his points from second place to win the overall by just 5 points.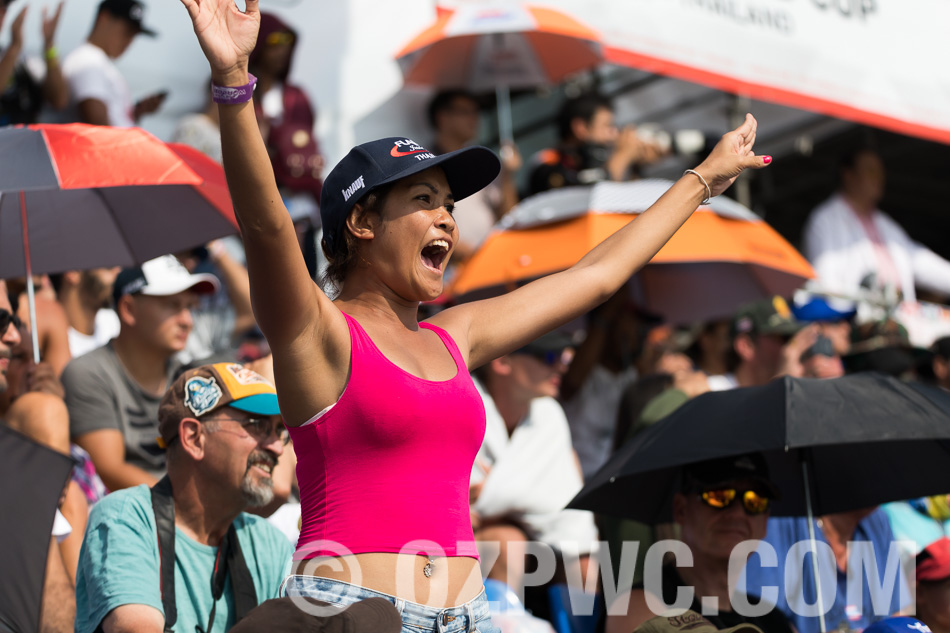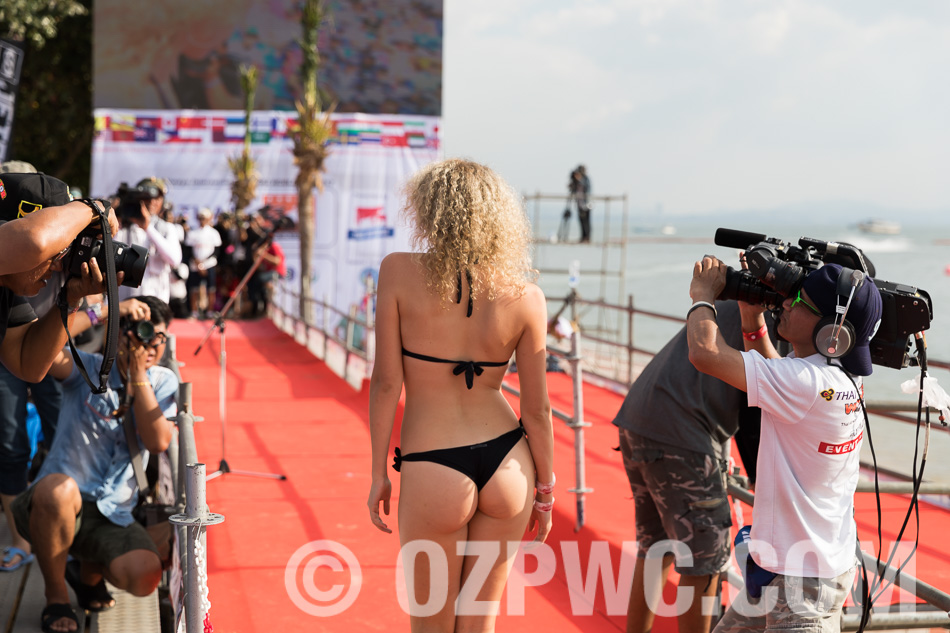 Thanks to the TJSBA, the organisers and the AJSBA for their support.
Full gallery of pics coming soon!!
Pro Ski GP
Jeremy Poret (France)
Botti Jean Baptiste (France)
Raphael Maurin (France)
Kevin Reiterer (Austria)
Dustin Motzouris (South Africa)
Pro Runabout GP
Chris MacClugage (USA)
Muhammad Burbayea (Kuwait)
Waleed Alsharshani (Qatar)
Hajme Isahai (Japan)
James Bushell (UK)
Guy Greenland (finished 7th)
James Masterton (finished 12th)
Pro Freestyle
Mark Gomez (USA)
Lee Stone (UK)
Taui Yamamoto (Japan)
Pro-Am Endurance
Jean Bruno Pastorello (France)
Suphathat Footrakul (Thailand)
Teera Settura (Thailand)
Jin Won Kim (Korea)
Chaiyaporn Nornua (Thailand)
Christian D'Agostin (AUS finished 19th)
Pro-Am Womens Ski Limited
Kylie Ellmers (New Zealand)
Yukiko Kume (Japan)
Orraphan Teerapatpanich (Thailand)
Chalita Kuajaroon (Thailand)
Chloe Jane Marsh (UK)
Jamie-Lee Spence (AUS finished 8th)
Pro-Am Runabout Stock
Marjak Pancho (Finland)
Abdullah Fadhel Al Fadhel (Kuwait)
Aqsa Sutan Aswar (Indonesia)
Supuk Settura (Thailand)
Teera Settura (Thailand)11.
Sebastian Birch (AUS finished 11th)
Mitch Casey (AUS finished 13th)
Bailey Cunningham (Finished 16th