DUBAI GRAND PRIX TITLES FOR ABDULRAZZAQ, REITERER, ORTENDAHL AND AL MULLA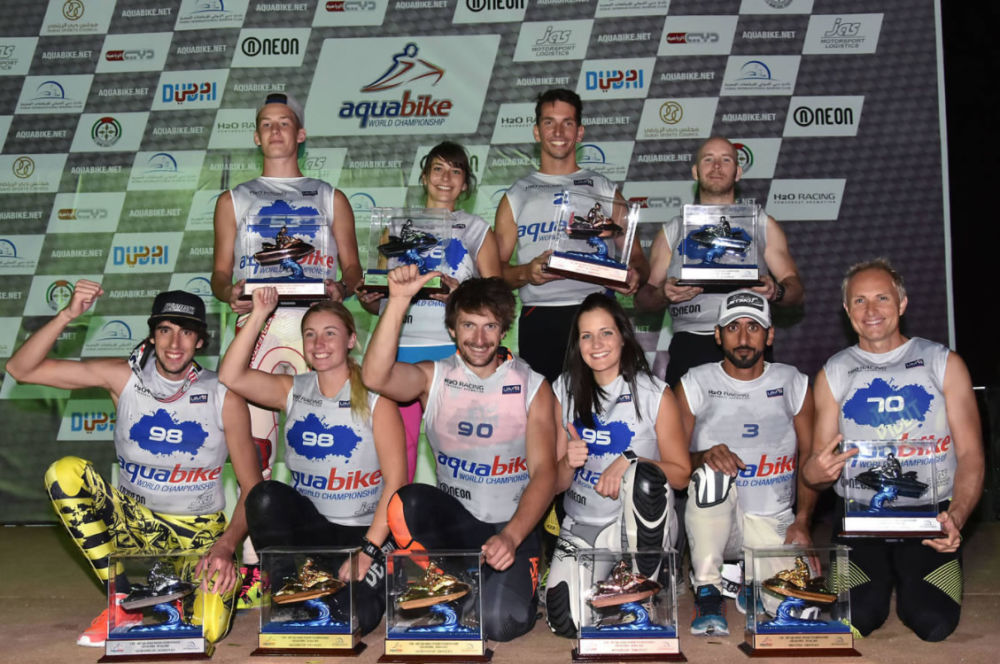 Saturday, 25 November, DUBAI (UAE): Strong winds and testing conditions resulted in a spectacular final day of action at the UIM-ABP Aquabike Grand Prix of Dubai, with Yousef Al Abdulrazzaq, Kevin Reiterer, Emma-Nellie Ortendahl and Rashed Al Mulla taking titles in their respective categories, Runabout GP1, Ski GP1 and Freestyle.
Australiasians Carl Lampe (NZ), Kylie Ellmers (NZ) and James Masterton (AUS) had mixed results with all 3 DNF in at least 1 moto ruling them out of top placings.
The huge waves and breakers on Kite Beach forced officials to revise the circuits for the third and final Motos for Runabout and Ski, with the Runabout riders opting to go for a rolling start and not off the beach.
In Runabout, victory in Moto 3 for defending champion Yousef Al Abdulrazzaq clinched the Kuwaiti rider his second Grand Prix title of the year and extended his lead at the top of the championship standings, with his main title challenger James Bushell black-flagged in the early stages.
Abdulrazzaq trailed Jeremy Perez before making the telling pass on lap 5 of 17 the eased away to take his second win of the weekend by 17.38s from Perez, with Lars Akerblom moving up from sixth to take third and second overall.
Despite the black-flag and no points today, Bushells win in Moto 1 and third place in Moto 2 gave the British rider third overall, but he now trails Abdulrazzaq in the title race by 29 points and Akerblom by 6.
With a win a piece yesterday, the epic on water fight in Ski between Austria's Kevin Reiterer and Belgium's Quinten Bossche continued, with the Austrian securing the title with his second win in two days, edging Bossche by five points.
Reiterer produced a near flawless performance and led the 10 lap race from start-to-finish to run out a comfortable winner by over 18 seconds.
Despite a poor start Bossche was able to make up places, moving up from sixth and passing Mickael Poret on lap three to move into second place. But despite closing the gap to the leader to under two seconds on lap six he then lost ground. But his second place extended his overall lead in the championship standings to 25 points.
Marten Manni's consistency over the three Motos, finishing third and in fourth twice gave the young Estonian Rider his first podium on the UIM-ABP tour.
Grand Prix honours in the Ladies division went to defending champion Emma-Nellie Ortendahl who followed up her win-double from yesterday with fifth.
But it was her championship rival Estelle Poret who produced a superlative performance in horrendous conditions, leading the Moto from start-to-finish to take her third win of the year, seal second overall and close the gap to Ortendahl in the title race to one point.
Krista Uzare rounded off her Dubai Grand Prix with her best result of the year finishing in second to take third overall and her first Grand Prix podium. Third place in the Moto went to Jonna Borgstrom.
In Freestyle Rashed Al Mulla completed the win hat-trick with a sensational set of tricks to take overall victory in his first Grand Prix of the year. Roberto Mariani secured the runners-up slot with second place ahead of young Russian Sergey Chemezov, with the final place on the podium going to Nac Florjancic who moved to the top of the championship standings.
For full classifications: www.aquabike.net/results
FINAL RESULTS AFTER 3 MOTOS