2017 Lake Mac Big Weekend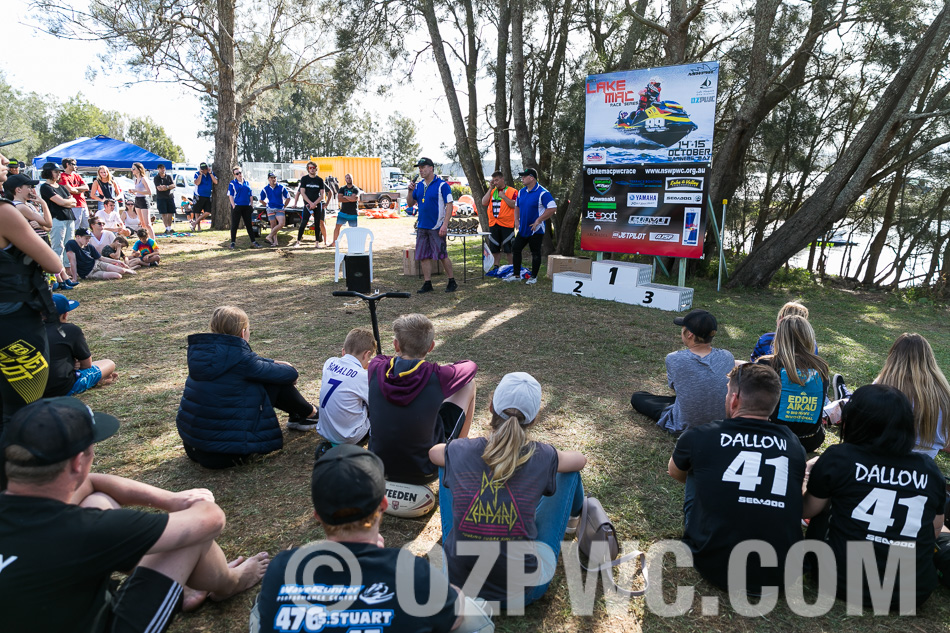 Massive couple of days for jetski racing at the recent Lake Mac Big Weekend (14/15 Oct 2017) with all credit to Newcastle local Mark Glew who has once again showed an amazing ability to step up, follow through and successfully establish a new event, in a new location for jetski competition in Australia.
After hibernating for a decade following the much loved National Capital Cup, which ran for 3 consecutive years on Lake Burley Griffin in the centre of Canberra, Mark Glew relocated his family to Newcastle in 2013. It didn't take long for him to consider bringing a similar style event to Lake Macquarie but he sat on the idea and it wasn't until his return to racing standups in 2016 and interest from Mark Perlowski, the owner of the local Newcastle Jetski Centre that they hatched a plan to bring a world class event to Lake Macquarie.
"The thing that drives me the most is I just love doing what people say you can't do or it will be impossible to deliver," says Mark Glew "so I just like to prove people wrong and do that. I like to create something that grows. The Superboats have a 5 year contract and there's no reason why we can't do the same, we delivered a successful event this year, we had a lot of eyes on us and we had great support from the local community, the council and from the Mayor Cr Kay Fraser."
Fraser agreed, "The broad range of activities, such as the Superboats, jetski racing, aerobatic flying displays, markets, exhibitions, food festival, live entertainment and an opportunity to try different water sports, made the Big Weekend highly attractive to residents and visitors, brought our community together and supported our local business."
Lake Macquarie is Australia's largest coastal salt water lagoon twice as large as Sydney Harbour covering an area of 110 square kilometres and a beautiful aquatic playground. The race site location at Eleebana was just about as perfect for jetski competition that I have seen in countless years covering events in Australia and just a few kilometres from the holiday accommodation, cafes and restaurants of Warners Bay.
With great support from the industry including sponsors Newcastle Jetski Centre, Terrace Boating, Lake & Valley Powersports, Kawasaki, Yamaha, Sea-Doo, Jetsport Asia Australia, Australian Jet Ski Parts, Jetpilot, Envy Graphics, Redbull and Archadia the event was run by the NSWPWC, their first for the season and their first away from their usual Sans Souci venue in the South of Sydney.
Friday kicked off with a media event and a hot lap around the track (courtesy Corey Styles) for Mayor Kay Fraser and Aaren Russell (V8 Supercar Driver for Lucas Dumbrell Motorsport) later broadcast on the NBN network across the Newcastle and Lake Macquarie region.
Saturday morning was overcast but warm and racing was on with a whole day for Endurance racing across several classes including a first for Sea-Doo Sparks and Yamaha EX Waverunners racing in their own Rec Lites class.
Sunday was all circuit racing with full grids in 6 classes that once underway had a race starting within minutes of the finish of the previous race – allowing 3 complete motos even with the 2 Superboat races that stopped racing at 11am and 1pm for 45 minutes at a time – very impressive.
Tying the event in with the Lake Mac Big Weekend was genius, with plenty of interest from the locals lining the lake's edge and walkways and checking out the hustle and bustle of the pits with the Redbull DJ pumping out some tunes and signage all around by Envy Graphics it was impressive and fun. Congrats to Mark Glew and Mark Perlowski in getting this event off the ground, one of the best events I've been to and can only get better from here.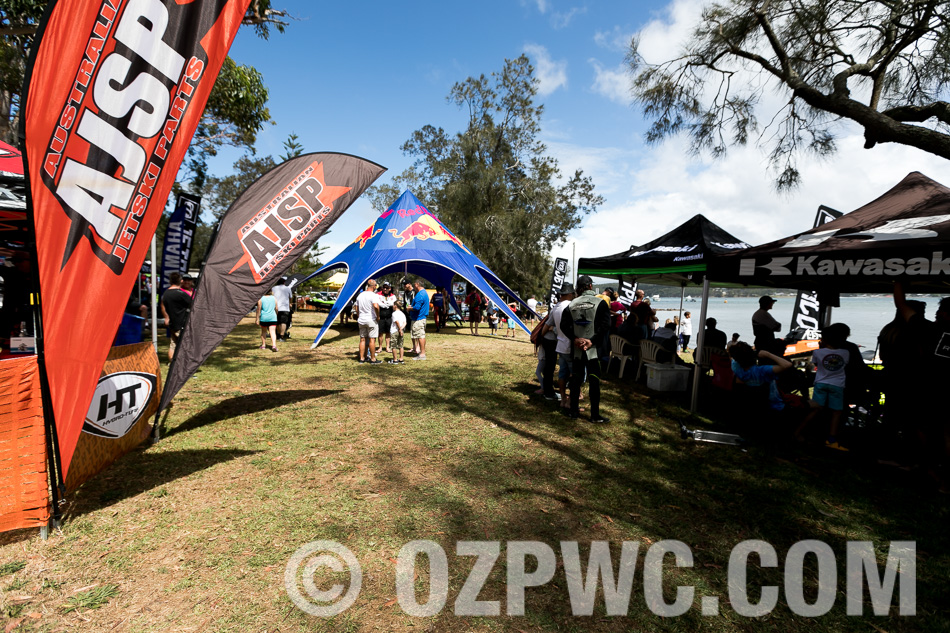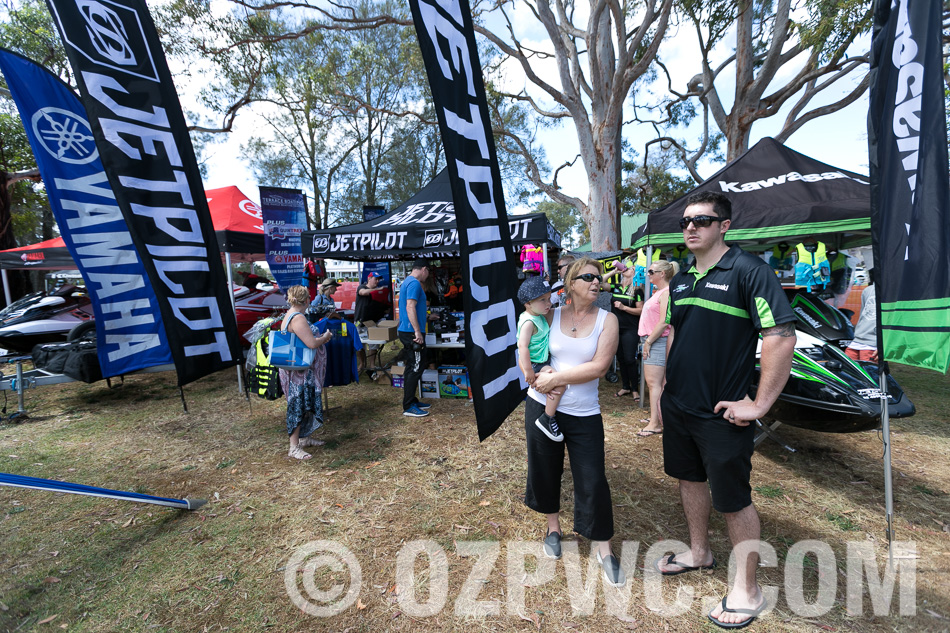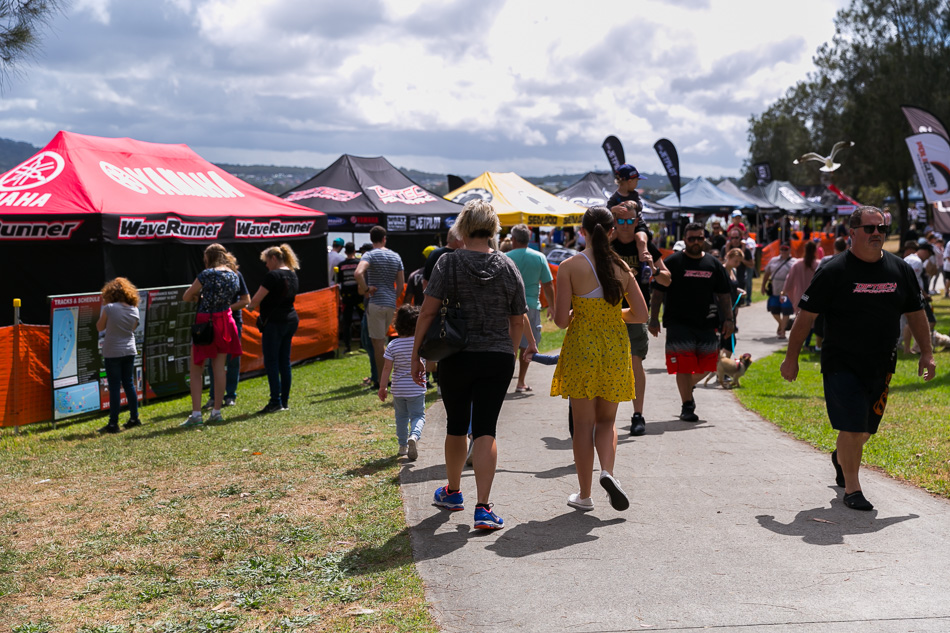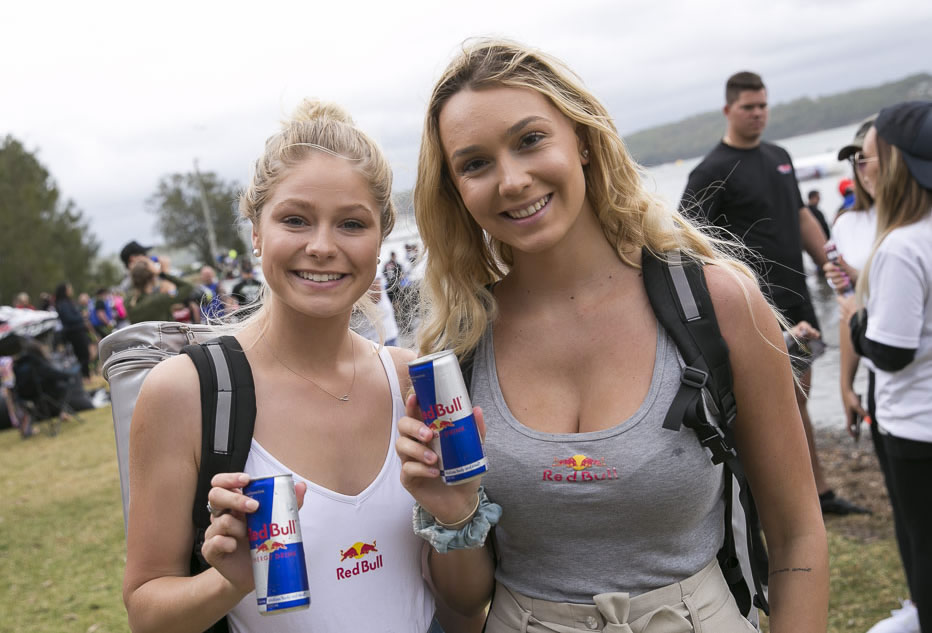 Check out all the pics under the Gallery link
LAKE MAC POINTS OVERALL RESULTS (CIRCUIT RACES) – 15 OCT 2017
Posn# – Race# – Name# – Points#
JUNIOR LITES SKI (AJSP)
1st 64 Blair Pomery 180
2nd 18 Cooper Beekman 149
3rd 57 Austin O'Halloran 135
4th 72 Ryder Dray 134
5th 15 Bryce Pomery 82
AM LIMITED RUNABOUT (Jetsport Australia)
1st 22 Mark Quitadamo 161
2nd 164 Nick Burns 156
3rd 206 David Vella 142
4th 29 Corey Styles 139
5th 318 Matthew Skelly 125
6th 535 Luke James 114
SHOWROOM STOCK RUNABOUT (Terrace Boating)
1st 41 Mark Dallow 173
2nd 104 Paul Bazeley 161
3rd 152 Zac LoPresti 144
4th 271 Paul Mullens 134
PRO AM LIMITED SKI (Newcastle Jetski Centre)
1st 88 Scott Hunt 180
2nd 98 Alex Youings 154
3rd 4 Desi Hanrahan 139
4th 23 Jeff Dray 96
PRO AM LITES SKI (Newcastle Jetski Centre)
1st 161 Tom Aiken 173
2nd 101 Jett Cavanagh 166
3rd 57 Brian Colreavy 139
4th 202 Michael Stevens 125
5th 18 Jake Beekman 123
6th 18 Michael McMillan 111
7th 96 McCauley Casey 33
PRO AM REC LITES (AJSP)
1st 82 Scott Philips 142
2nd 41 Emma Harris 136
3rd 16 Mitch Wayt 127
4th 25 Greg Hack 126
5th 722 Irene Vasilas 117
6th 555 Cliff Elmers 113
7th 206 David Vella 99
8th 222 Richard Holmes 98
9th 96 McCauley Casey 97
10th 113 Justin Cook 85
11th 817 Stuart Ridgewell 65
12th 171 Jarrod Baird 56
13th 595 Mitch Boulden 50
14th 32 Travis Trethowan 42
15th 318 Matthew Skelly 34
PRO MODIFIED SKI (Newcastle Jetski Centre)
1st 6 Veerapong Maneechom 173
2nd 57 Bryon Lewis 166
3rd 14 Matt Daley 135
4th 45 James Xuereb 134
5th 101 Jett Cavanagh 82
6th 161 Jeff Dray 75
7th 553 Kylie Elmers 66
8th 319 Mitch Masterton 33
PRO STOCK RUNABOUT (Terrace Boating)
1st 16 Mitch Wayt 166
2nd 10 Sebastian Birch 163
3rd 81 Holden Stockman 149
4th 94 Mitch Casey 134
PRO GP RUNABOUT (Lake and Valley Powersports)
1st 1 Paul Leven 180
2nd 13 Kylie Elmers 125
3rd 16 Mitch Wayt 149
4th 553 Nulek Supahlek Ninnapparat 154
5th 29 Corey Styles 121
—————————————————————————————————
LAKE MAC POINTS OVERALL RESULTS (ENDURANCE RACES) – 14 OCT 2017
Posn# – Race# – Name# – Points#
Enduro Pro Am Rec Lites
1st #817 Stuart Ridewell 1152
2nd #690 Anthony DiPietro 1120
3rd #96 McCauley Casey 1108
4th #117 Shaun Bailey 1108
5th #113 Justin Cook 1068
6th #32 Travis Trethowan 1068
7th #555 Cliff Ellmers 344
Enduro Showroom Stock Runabout
1st #104 Paul Bazeley 1160
2nd #152 Zac LoPresti 1160
3rd #401 Jason Ivins 1088
4th #271 Paul Mullens 1064
5th #44 Paul Hudson 1056
6th #217 Bruno Gullaci 1032
7th #69 Jim Kasidiaris 1028
8th #153 Raymond Bennett 1004
9th #156 Sean Berghofer 716
10th #595 Mitch Boulden 368
11th #360 Matthew Mackendry 352
12th #111 Phillip Borg 336
Enduro Pro Stock Runabout
1st #305 Adam Wildin 1200
2nd #155 Bradley Phillips 1140
Enduro Amateur Limited Runabout
1st #22 Mark Quitadamo 1180
2nd #114 Joshua Micallef 1136
3rd #206 David Vella 1128
4th #154 Aaron Trinder 720
Enduro Pro GP Runabout
1st #10 Christian D'Agostin 1180
2nd #711 Chinni Rao 1128
3rd #94 Mitch Casey 720
4th #6 Brett Douglas 720
5th #1 Paul Leven 400
Thanks to lap scorers and NSWPWC